Keto Gatherings: Festive Low-Carb Recipes for Every Occasion
Spiral-Bound | December 4, 2018
Kristie Sullivan
Rebinding by Spiralverse™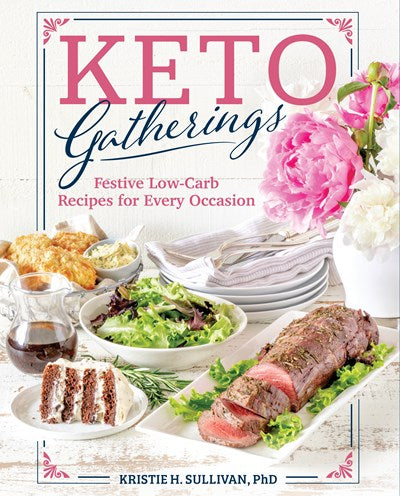 Where two or more are gathered, there will be food!

Keto Gatherings celebrates food that is to be shared with others. Regardless of the occasion, there are always delicious low-carb options for everyone to enjoy, and Keto Gatherings brings them all together.

Organized by month, each chapter features a birthday treat as well as menu ideas for any celebration, including cocktails. There is also an ice cream flavor of the month that will convince anyone who tries them that a ketogenic diet is sustainable. The recipes in this book are not only keto recipes, but simply recipes for fantastic foods that anyone will enjoy. These are the dishes that author Kristie Sullivan has shared with my family and friends for many years of gatherings.
Kristie Sullivan was obese from the age of three. She'd tried everything to lose weight, even gastric bypass. By the age of forty-five, she was desperate. When she discovered a ketogenic diet, her body finally started responding positively to her eating habits. Her lifetime of struggle was resolved by eliminating carbohydrates.

Kristie's passion is reaching out to others who struggle and helping them to learn why a ketogenic diet works and how to make this a sustainable lifestyle. Too many physicians recognize that carbohydrate restriction can work, yet they don't prescribe it because they fear it isn't sustainable. Patient compliance is perceived as a primary barrier to success, and Kristie struggles to bridge that gap by showing that it's not only practical but sustainable for the rest of your life.