Buried Sunlight: How Fossil Fuels Have Changed the Earth : How Fossil Fuels Have Changed the Earth
Spiral-Bound | September 30, 2014
Molly Bang, Penny Chisholm, Molly Bang (Illustrated by)
Rebinding by Spiralverse™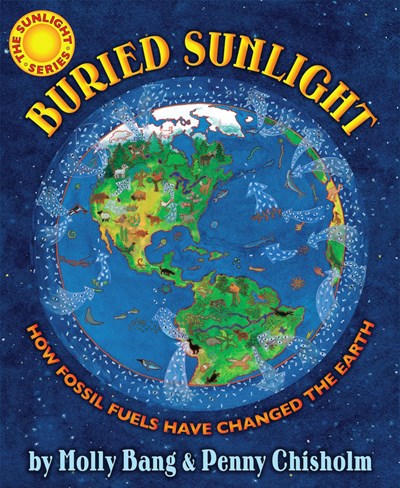 Acclaimed Caldecott Artist Molly Bang teams up with award-winning M.I.T. professor Penny Chisholm to present the fascinating, timely story of fossil fuels.What are fossil fuels, and how did they come to exist? This engaging, stunning book explains how coal, oil, and gas are really "buried sunlight," trapped beneath the surface of our planet for millions and millions of years.Now, in a very short time, we are digging them up and burning them, changing the carbon balance of our planet's air and water. What does this mean, and what should we do about it?Using simple language and breathtaking paintings, Bang and Chisholm present a clear, concise explanation of the fossil-fuel energy cycle that began with the sun and now runs most of our transportation and energy use in our world.Readers will be mesmerized by this engaging fourth book in the award-winning Sunlight Series by Bang and Chisholm.
Praise for OCEAN SUNLIGHT: HOW TINY PLANTS FEED THE SEAS:A BOOKLIST Editor's Choice & Top 10 Book for YouthA Cooperative Children's Book Center Choice TitleA Kirkus Best Children's Book Title* "This ambitious, beautifully illustrated book offers information seldom covered in science books for young children."--BOOKLIST, starred review* "Bang creates dimension and visual drama with her use of gold, blues, and black, forming an ethereal habitat for phytoplankton, jellyfish, and bioluminescent creatures."--PUBLISHERS WEEKLY, starred review* "An awe-inspiring lesson in photosynthesis goes under the sea. . . . Readers will want to visit more than once to capture both the science and the abundant sense of celebration here."--KIRKUS REVIEWS, starred reviewPraise for LIVING SUNLIGHT: HOW PLANTS BRING THE EARTH TO LIFE:* "If a good picture book does what it sets out to do, a great one sets out to do something huge and succeeds. . . . An outstanding book to read and absorb."--BOOKLIST, starred review - "Chisholm, a professor of ecology, expands on the theme [photosynthesis], while the intense greens of Bang's gouaches bring it vibrantly to life."--THE NEW YORK TIMES BOOK REVIEW- "LIVING SUNLIGHT is less a tutorial on photosynthesis than a magnificent celebration of life."--NATURAL HISTORYPraise for MY LIGHT:* "A lovely and illuminating book that presents sound science while expressing the wonder of flipping a switch and flooding a room with light."--BOOKLIST, starred review- "Bang's imagery and word choice provide a vivid text for her readers. And then there are the illustrations: phenomenal only begins to explain Bang's choices in her use of color and composition. . . . This is a picture book that should be found in all libraries."--CHILDREN'S LITERATURE
Penny Chisholm is a professor at M.I.T., where she has been teaching Ecology for more than thirty-five years. Her long list of prestigious awards includes the National Medal of Science, awarded at the White House in 2013.
Molly Bang has written and illustrated more than twenty books for young readers, including When Sophie Gets Angry -- Really, Really Angry... ; Ten, Nine, Eight; and The Grey Lady and the Strawberry Snatcher, each of which were Caldecott Honor books. Bang divides her time between Falmouth, Massachusetts, and Northern California.