A Snicker of Magic (Scholastic Gold)
Spiral-Bound | April 28, 2015
Natalie Lloyd
Rebinding by Spiralverse™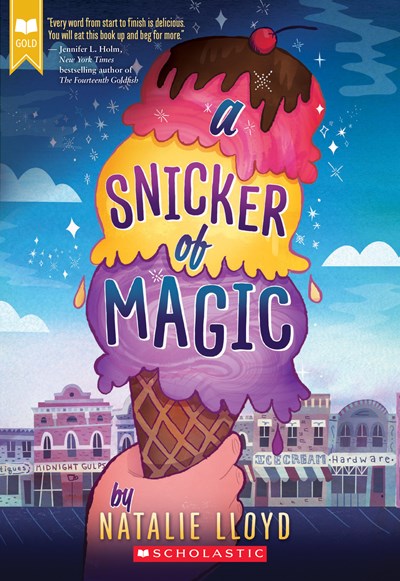 Natalie Lloyd's SPINDIDDLY debut novel, now in paperback!
Natalie Lloyd's SPINDIDDLY debut novel, now in paperback!A Snicker of Magic joins the Scholastic Gold line, which features award-winning and beloved novels. Includes exclusive bonus content!Midnight Gulch used to be a magical place, a town where people could sing up thunderstorms and dance up sunflowers. But that was long ago, before a curse drove the magic away. Twelve-year-old Felicity knows all about things like that; her nomadic mother is cursed with a wandering heart.But when she arrives in Midnight Gulch, Felicity thinks her luck's about to change. A "word collector," Felicity sees words everywhere---shining above strangers, tucked into church eves, and tangled up her dog's floppy ears---but Midnight Gulch is the first place she's ever seen the word "home." And then there's Jonah, a mysterious, spiky-haired do-gooder who shimmers with words Felicity's never seen before, words that make Felicity's heart beat a little faster. Felicity wants to stay in Midnight Gulch more than anything, but first, she'll need to figure out how to bring back the magic, breaking the spell that's been cast over the town . . . and her mother's broken heart.
Praise for A Snicker of Magic * "This tale offers all [the] earmarks of fine storytelling, including colorful, eccentric characters, an original, highly likable narrator and a mighty "spindiddly"plot." -- Kirkus Reviews, starred review* "From every angle, Lloyd's first novel sparkles and radiates warmth . . . Working in the folksy vein of Ingrid Law's Savvy, Lloyd offers a reassuring, homespun story about self-expression and the magic that resides in one's mind and heart." -- Publishers Weekly, starred review* "A delightful and inspiring debut . . . Mibs Beaumont and her magically gifted clan from Ingrid Law's Savvy would feel right at home here. As Felicity loves to say, "Yes...yes...yes!" -- School Library Journal, starred review
Natalie Lloyd lives in Chattanooga, Tennessee. She collects old books, listens to bluegrass music, and loves exploring quirky mountain towns with her dog, Biscuit. She is the author of A Snicker of Magic and The Key to Extraordinary.