Call for the Dead: A George Smiley Novel
Spiral-Bound | October 2, 2012
John le Carré
Rebinding by Spiralverse™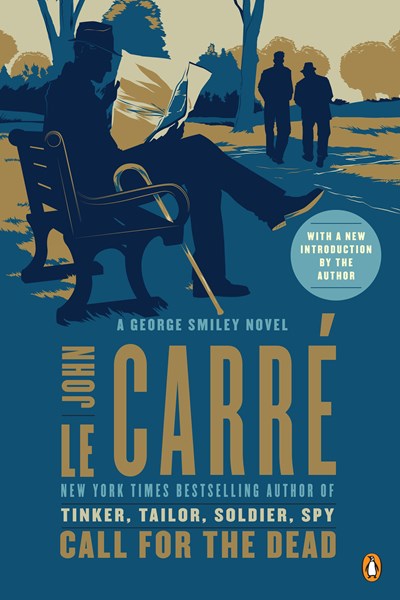 On the heels of the hugely successful movie and the triumphant return of Tinker, Tailor, Soldier, Spy to the New York Times bestseller list, Penguin publishes John le Carré's first two novels
The first of his peerless novels of Cold War espionage and international intrigue, Call for the Dead is also the debut of John le Carré's masterful creation George Smiley.

"Go back to Whitehall and look for more spies on your drawing boards."
George Smiley is no one's idea of a spy—which is perhaps why he's such a natural. But Smiley apparently made a mistake. After a routine security interview, he concluded that the affable Samuel Fennan had nothing to hide. Why, then, did the man from the Foreign Office shoot himself in the head only hours later? Or did he?
The heart-stopping tale of intrigue that launched both novelist and spy, Call for the Dead is an essential introduction to le Carré's chillingly amoral universe.
"A subtle and acute story of counterespionage marked by restraint, indirection, and intelligence."
—The New York Times Book Review

"[Le Carré] is one of our great writers of moral ambiguity, a tireless explorer of that darkly contradictory no-man's-land."
—Los Angeles Times

"Brilliant. Realistic. Constant suspense...excellent writing."
—Observer (London)


"Intelligent, thrilling, surprising ... makes most cloak-and-dagger stuff taste of cardboard." ― Sunday Telegraph (London)

"Brilliant. Realistic. Constant suspense." ― Observer (London)

"The greatest spy novelist of all time ... astounding works of the imagination. -- Jake Kerridge" ― Daily Telegraph (London)

"Brilliant, popular, intelligent, thrilling, suspenseful, angry, original, masterful writing. Can't be topped." -- Armando Iannucci

"An extraordinary writer who brought literary lustre and lived insight to the spy yarn." -- Ian Rankin

"One of those writers who will be read a century from now." -- Robert Harris

"His Smiley novels are key to understanding the mid-20th century." -- Margaret Atwood

"What Joseph Conrad started, John le Carré enshrined and made modern. That is the real achievement of his great novels and why they will endure ... we should see him as our contemporary Dickens." -- William Boyd ― New Statesman (London)




John le Carré was born in 1931. For six decades, he wrote novels that came to define our age. The son of a con man, he spent his childhood between boarding school and the London underworld. At sixteen he found refuge at the university of Bern, then later at Oxford. A spell of teaching at Eton led him to a short career in British Intelligence (MI5&6). He published his debut novel, Call for the Dead, in 1961 while still a secret servant. His third novel, The Spy Who Came in from the Cold, secured him a worldwide reputation, which was consolidated by the acclaim for his trilogy Tinker Tailor Soldier Spy, The Honourable Schoolboy, and Smiley's People. At the end of the Cold War, le Carré widened his scope to explore an international landscape including the arms trade and the War on Terror. His memoir, The Pigeon Tunnel, was published in 2016 and the last George Smiley novel, A Legacy of Spies, appeared in 2017. He died on December 12, 2020.