Greatest Tragedies of Shakespeare (Deluxe Hardbound Edition): English Literature | Tragic Heroes | Timeless Classics | Dramatic Masterpieces | Love and Loss | Timeless Tales of Ambition and Downfall | A Must-read for Classic Literature Enthusiasts
Spiral-Bound | December 1, 2020
William Shakespeare
Rebinding by Spiralverse™
★★★☆☆+ from Up to 30 ratings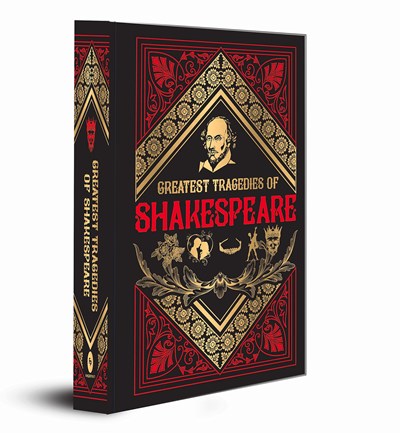 Experience the timeless beauty of Shakespeare's greatest tragedies with this Deluxe Hardbound Edition. Immerse yourself in the world of tragic heroes and captivating narratives, presented in a stunning format that combines elegance and durability. Perfect for Shakespeare enthusiasts and collectors alike.

Deluxe hardbound edition featuring Shakespeare's greatest tragedies
Immerse yourself in the timeless narratives of tragic heroes
Exquisite design and durable construction for long-lasting enjoyment
Perfect for Shakespeare enthusiasts and collectors
A must-have addition to any bookshelf or literary collection
"William Shakespeare began his career as an actor, writer, and part owner of a playing company called the Lord Chamberlain' s Men, later known as King' s Men, in London. Often regarded as the ' Bard of Avon' he is one of the world' s pre-eminent dramatists.
Most of his known works have been produced between 1589 and 1613. His plays demonstrate the expansiveness of his imagination and the extent of his learning.
Shakespeare introduced prose comedy in the histories of the late 1590s— Henry IV, Part I and Part II, and Henry V— after the lyrical Richard II. Julius Caesar introduced a new kind of drama. Shakespeare' s sequence of great comedies continue with Merchant of Venice, Much Ado About Nothing, As You Like It, and Twelfth Night. Until about 1608, he mainly wrote tragedies including Hamlet, Othello, King Lear, and Macbeth. Antony and Cleopatra and Coriolanus— his last major tragedies, contain some of his finest poetry.
A true genius, Shakespeare' s popular characters and plots are studied, performed, reinterpreted, and discussed till today. "