What Do You Say?: How to Talk with Kids to Build Motivation, Stress Tolerance, and a Happy Home
Spiral-Bound | August 17, 2021
William Stixrud, PhD, Ned Johnson
Rebinding by Spiralverse™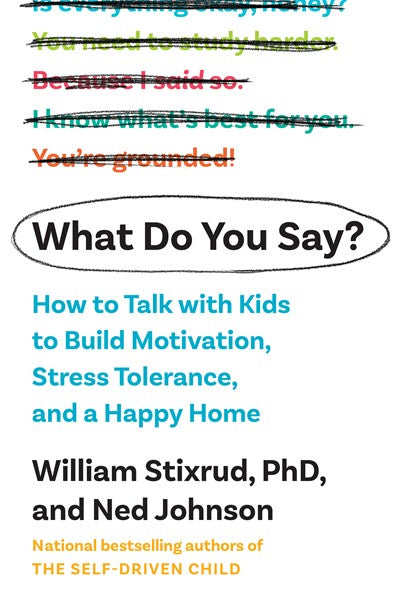 A guide to effectively communicating with teenagers by the bestselling authors of The Self-Driven Child

If you're a parent, you've had a moment--maybe many of them--when you've thought, "How did that conversation go so badly?" At some point after the sixth grade, the same kid who asked "why" non-stop at age four suddenly stops talking to you. And the conversations that you wish you could have--ones fueled by your desire to see your kid not just safe and healthy, but passionately engaged--suddenly feel nearly impossible to execute. The good news is that effective communication can be cultivated, learned, and taught. And as you get better at this, so will your kids.

William Stixrud, Ph.D., and Ned Johnson have 60 years combined experience talking to kids one-on-one, and the most common question they get when out speaking to parents and educators is: What do you say? While many adults understand the importance and power of the philosophies behind the books that dominate the parenting bestseller list, parents are often left wondering how to put those concepts into action. In What Do You Say?, Johnson and Stixrud show how to engage in respectful and effective dialogue, beginning with defining and demonstrating the basic principles of listening and speaking. Then they show new ways to handle specific, thorny topics of the sort that usually end in parent/kid standoffs: delivering constructive feedback to kids; discussing boundaries around technology; explaining sleep and their brains; the anxiety of current events; and family problem-solving. What Do You Say? is a manual and map that will immediately transform parents' ability to navigate complex terrain and train their minds and hearts to communicate ever more successfully.
"In an age when childhood anxiety, depression, and suicide are on the rise, parents need, more than ever, tools for communicating effectively with children. What Do You Say? could not have arrived at a better time and is essential reading for today's parents." —Booklist

"Full of easy-to-implement tips, this is a resource parents will return to." --STARRED Publishers Weekly

"A must-read for any parent who finally wants to stop arguing, bickering, and negotiating with their kids, but who also wants their children to succeed and do well in life. Stixrud and Johnson provide clear, actionable guidance on how to motivate kids to do well school, to conquer their fears and anxieties, and ultimately to pursue activities that bring joy and happiness. The advice in this book has already helped me become a kinder, more effective mom." --Michaeleen Doucleff, New York Times bestselling author of Hunt, Gather, Parent


"In What Do You Say? Stixrud and Johnson function as guardian angels who show up at precisely the right time with precisely the right advice. Deploying an ideal mashup of research, relatable scenarios, and instructive dialogues they guide you to be a calm, loving consultant to your child, while helping you counteract the impulse to push, pull, or control. Your kid grows capable and resilient from their strong interpersonal connection with you, the competency they develop, and the autonomy you're giving them. This book is a must-read game-changer for all parents. It's already changing my life!" —Julie Lythcott-Haims, New York Times bestselling author of Your Turn and How To Raise an Adult

William Stixrud, Ph.D. is a clinical neuropsychologist and a faculty member at Children's National Medical Center and George Washington University Medical School. He lectures and writes widely on the adolescent brain, meditation, and the effects of stress, sleep deprivation, and technology overload on the brain. He is on the board of the David Lynch Foundation. Ned Johnson is the founder of PrepMatters and the coauthor of Conquering the SAT: How Parents Can Help Teens Overcome the Pressure and Succeed. A sought-after speaker and teen coach for study skills, parent-teen dynamics, and anxiety management, his work has been featured on NPR, NewsHour, U.S. News & World Report, Time, The Washington Post, and The Wall Street Journal.