Claudia Roden's Mediterranean: Treasured Recipes from a Lifetime of Travel [A Cookbook]
Spiral-Bound | November 9, 2021
Claudia Roden
Rebinding by Spiralverse™
★★★★☆+ from 31 to 100 ratings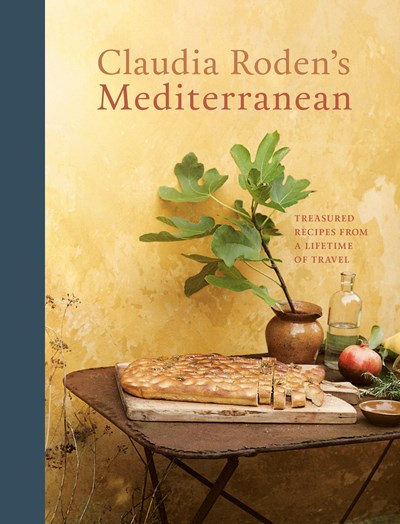 "I could not love this book more. A palpable instant classic, infused with wisdom, generosity, and achievable deliciousness. Every page feels like a blessing."—Nigella Lawson

"Claudia Roden channels the sun and warm glow of the Mediterranean. To read Claudia is to sit at her table, with everything, simply, as it should be. Pull up a chair for the food; stay at the table for the stories."—Yotam Ottolenghi

Join world-renowned food writer Claudia Roden on a culinary journey across the Mediterranean, all from the comfort of your own dinner table. Widely credited with revolutionizing Western attitudes to Middle Eastern and Mediterranean food, Claudia is a living legend. Though best known for her deep dives into cuisines, in this timeless collection of simple, beautiful recipes, she shares the food she loves and cooks for friends and family.

You'll find tried-and-true favorites from France, Greece, and Spain to Egypt, Turkey, and Morocco, inspired by Claudia's decades of travel and research throughout the region. The many flavors of the Mediterranean are highlighted in dishes such as Chicken with Apricots and Pistachios, Vegetable Couscous, Eggplant in a Spicy Honey Sauce with Soft Goat Cheese, Bean Stew with Chorizo and Bacon, Plum Clafoutis, and so many more.

From appetizers to desserts, Claudia distills a life's worth of traveling and eating her way through the Mediterranean, presenting a selection of the recipes that she cooks the most often because they bring the most joy.
Claudia Roden is a cookbook writer and anthropologist based in the UK. She grew up in Cairo and studied in both Paris and London. She has published multiple bestsellers, including the international award-winning The Book of Jewish Food, and she introduced the UK to Middle Eastern cuisines in 1968 with her bestselling cookbook, A Book of Middle Eastern Food. In addition to her writing career, Roden has presented cookery shows on the BBC and she is co-chair of the Oxford Symposium on Food and Cookery.