Made for Living: Collected Interiors for All Sorts of Styles
Spiral-Bound | October 27, 2020
Amber Lewis, Cat Chen
Rebinding by Spiralverse™
★★★☆☆+ from 501 to 1,000 ratings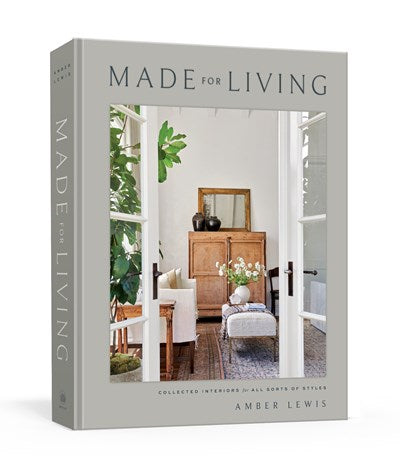 NATIONAL BESTSELLER • The trendsetting designer known for her effortless style shares the secrets of the art of layering, with more than 250 gorgeous photographs of her signature interiors.

"Livability is my true north. The materials I use time and again all change with age and wear. Not only is that okay, it's how you achieve more than a re-creation of what you've already seen, or what somebody else has done. You can do this, too—I promise."—from the introduction

Designing a room with all the vibes comes down to how you layer your décor. The more you can mix the elements of your room—your pillows, objects, patterns, and lighting—the more finished it'll feel: not too new, not too old, but just right.

Known for her eclectic approach that stems from her California cool, Amber Lewis trains your eye in Made for Living, offering friendly advice on everything from nailing that perfect shade of paint to mismatching patterns with wild abandon to choosing a stone finish for new countertops. These pages will help you design a home that's made to be lived in.
"Made for Living invites you into dreamy homes that are light, bright, and—key these days—comfortable."—Martha Stewart Living

"You'll immediately want to buy this new book of [Amber Lewis's] signature laid-back interiors for yourself and everyone you know."—The Zoe Report

"Made for Living unpacks Lewis's process for those longing to make the look their own."—Magazine C


Interior designer Amber Lewis is the principal and founder of Amber Interiors, a full-service firm that provides designs for everything from large-scale residences to extensive commercial projects. Amber and her team work with architects and contractors to bring to life the distinct visions seen in her work, on her blog, and in her retail shop. Amber lives with her husband and daughter in Calabasas, California.