Portrait of a Scotsman
Spiral-Bound | September 7, 2021
Evie Dunmore
Rebinding by Spiralverse™
★★★☆☆+ from 10,001 to 50,000 ratings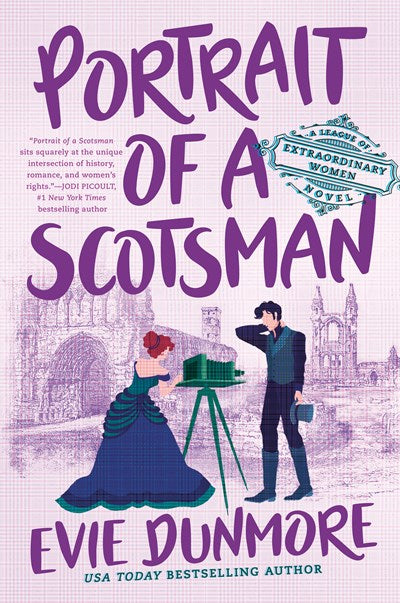 The Instant USA Today Bestseller!

A BuzzFeed Best Romance of 2021!
One of Marie Claire's most anticipated romances of 2021!
One of Cosmopolitan's most anticipated fall books of 2021!

"Dunmore is my new find in historical romance. Her A League of Extraordinary Women series is extraordinary."—Julia Quinn, #1 New York Times bestselling author

"This series balances friendship, politics, history, and romance in just the right mix."—U.S. Representative Katie Porter

Going toe-to-toe with a brooding Scotsman is rather bold for a respectable suffragist, but when he happens to be one's unexpected husband, what else is an unwilling bride to do?

London banking heiress Hattie Greenfield wanted just three things in life:

1. Acclaim as an artist.
2. A noble cause.
3. Marriage to a young lord who puts the gentle in gentleman.

Why then does this Oxford scholar find herself at the altar with the darkly attractive financier Lucian Blackstone, whose murky past and ruthless business practices strike fear in the hearts of Britain's peerage? Trust Hattie to take an invigorating little adventure too far. Now she's stuck with a churlish Scot who just might be the end of her ambitions....

When the daughter of his business rival all but falls into his lap, Lucian sees opportunity. As a self-made man, he has vast wealth but holds little power, and Hattie might be the key to finally setting long-harbored political plans in motion. Driven by an old desire for revenge, he has no room for his new wife's apprehensions or romantic notions, bewitching as he finds her.

But a sudden journey to Scotland paints everything in a different light. Hattie slowly sees the real Lucian and realizes she could win everything--as long as she is prepared to lose her heart.
Praise for Evie Dunmore and Portrait of a Scotsman

"With her smart, well-researched stories and wildly appealing characters, Evie Dunmore has a unique ability to write historical romance for the modern reader. Evie Dunmore is my favorite new historical romance author!"—Lisa Kleypas, New York Times bestselling author

"Portrait of a Scotsman, like all of Evie Dunmore's excellent books, sits squarely at the unique intersection of history, romance, and women's rights... a spot where I could happily stay forever."—Jodi Picoult, #1 New York Times bestselling author

"Remarkably sexy and surprisingly complex...A novel that crackles with tension and pulls on every heartstring: perfection."—Emily Henry, New York Times bestselling author

"Anyone who binge-watched Bridgerton needs this feminist regency romance on their radar."—Cosmopolitan

"Portrait of a Scotsman is a captivating mix of history, romance, and politics that transports readers back in time. Evie Dunmore's gorgeous prose, electric chemistry, witty dialogue, poignant plot, and compelling characters light up the page in this delightful novel. A stunning read!"—Chanel Cleeton, New York Times bestselling author

"Dunmore is in a league of her own with these romances! Vivid, magical and with a steam factor that'll make you get up and open a window in your house. An absolute triumph and a joy to read."—Roshani Chokshi, New York Times bestselling author

"Intelligent and achingly poignant. Dunmore is a genre-defying storyteller."—Lauren Layne, New York Times bestselling author

"Delectably sexy and profoundly romantic at its core. It's sure to delight fans of the series as well as new readers, thanks to Dunmore's trademark mix of historical fiction, British feminist history, and steamy Victorian romance."—Library Journal, starred review

"Portrait of a Scotsman crackles with passion, both in the bedroom and when it comes to righting social ills. This is why Evie Dunmore is my favorite historical romance author!"—Stephanie Marie Thornton, USA Today bestselling author

"Fans of Outlander and Poldark, listen up! Dunmore's Scotsman has it all: a talented heroine who's true to herself, a hero who respects her, and whip-smart social commentary that illuminates a lesser known chapter of English history—all wrapped up in the sexiest possible package."—Kerri Maher, author of The Girl in White Gloves

Evie Dunmore wrote her USA Today bestselling series inspired by the magical scenery of Oxford and her passion for romance, women pioneers, and all things Victorian. In her civilian life, she is a consultant with a M.Sc. in diplomacy from Oxford. Evie lives in Berlin and pours her fascination with nineteenth-century Britain into her writing.