Roy White: From Compton to the Bronx
Spiral-Bound | April 11, 2023
Roy White, Paul R Semendinger
Rebinding by Spiralverse™
★★★★☆+ from Up to 30 ratings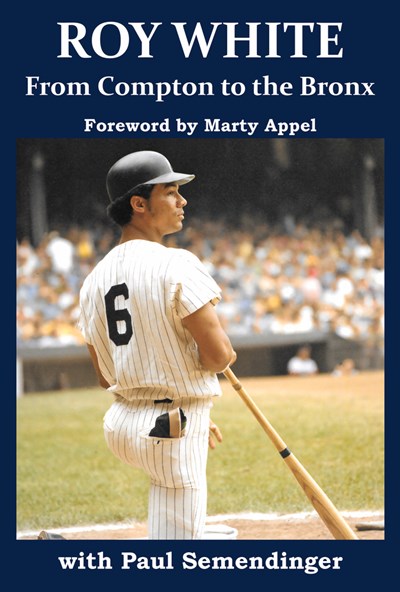 A young man from Compton rises to the highest levels of baseball greatness.

Roy White played on the New York Yankees from 1965 through the 1979 season. Roy grew up on the tough streets of Compton and created a successful all-star baseball career playing alongside such greats as Mickey Mantle, Roger Maris, Whitey Ford, Thurman Munson, Reggie Jackson, Catfish Hunter, and many others. Today Roy White sits among the greatest all-time Yankees in most offensive categories. After his career with the Yankees, Roy White became a star in Japan playing for the Tokyo Giants and playing alongside the greatest Japanese player of all time Sadaharu Oh.

Considered one of the classiest baseball players ever, this is Roy White's story, but it's also the story of a unique period in baseball history when the Yankees fell from grace and regained glory and the country dealt with societal changes in many ways.
"Whether you remember watching games from the Bronx Zoo era or have only recently come to enjoy the game, this book is a must for any baseball fan." —Chris Donnelly, author of Doc, Donnie, the Kid, and Billy Brawl: How the 1985 Mets and Yankees Fought For New York's Baseball Soul

"This book is a valuable keepsake and grand-slam homerun!" —Grandmaster Andrew Linick, Publisher: Official Karate Mag., Martial Arts Pioneer, The U.S. Ambassador of Karate™, and International Best-Selling Author: Nunchaku, Karate's Deadliest Fighting Sticks, 3rd Edition

"This is a must-read about the most underrated Yankee of all time." —Ian O'Connor, four-time New York Times bestselling author of The Captain: The Journey of Derek Jeter

"The Baseball Gods must have loved watching Roy White play the game of baseball. I really enjoyed reading this book!" —Jonathan A. Fink, Author of The Baseball Gods are Real and The Republic Baseball League

"More than the autobiography of a great player, a revealing portrait of a great man, and a paean to dedication, hard work, and decency." —JB Manheim, author of The Cooperstown Trilogy

"There may be a lot to learn about this overlooked position in Yankee history, but Roy White: From Compton to the Bronx is a damn good place to start." —David Ostrowsky, Atlanta Jewish Times

"From Compton to the Bronx provides insights into White and his career with the Yankees as a player, coach and executive." —Barry Parks, author of Frank Home Run Baker: Hall of Famer and World Series Hero

"This is a terrific read filled with great memories that truly inspire." —Robert Skead, author of Something to Prove, the Great Satchel Paige Versus the Rookie Joe DiMaggio

"Roy White: From Compton to the Bronx reads the way Roy played the game: with class, professionalism and a love for baseball." —Johnny D. Boggs, author of Sports on Film: Hollywood History and the "Baseball Westerns" Camp Ford, The Kansas City Cowboys and Buckskin, Bloomers and Me

"From Compton to the Bronx is the expertly-told story of his fascinating baseball journey and a portrait of the American dream itself." —Daniel R. Epstein, Co-Director of the Internet Baseball Writers Association of America

"When I put this book down, I knew that what this world needs is more men like Roy White, not just as athletes but as inspirations for future generations." —Alan D. Gaff, author of Lou Gehrig: The Lost Memoir and Field of Corpses

"The most impressive scholarship on the Yankees I have read…" —Dr. Rock Positano and John Positano, award-winning authors of Dinner With DiMaggio, about Paul's book, The Least Among Them

"This charming and meticulously researched book will remind you of baseball's power to change and enrich lives far beyond the diamond." —Jonathan Eig, New York Times best-selling author of Opening Day, about Paul's book, The Least Among Them
One of the most beloved Yankees of All-Time, Roy White was an all-star outfielder for the Yankees from 1965 to 1979. Roy played in the 1977 and 1978 World Championship Yankees teams. He later played for the Tokyo Giants in Japan, coached with the Yankees, and founded the Roy White Foundation, which provides financial assistance to young adults and children whose desire to further their education is inhibited by financial complications. Roy White sits among the all-time leaders on most of the all-time Yankees lists. After a wonderful 32-year career in education, Dr. Paul Semendinger is now a fulltime author and part time college professor and is widely known for his knowledge of the history of baseball, specifically the New York Yankees. He is a member of the Internet Baseball Writers Association of America (IBWAA) and is the Editor-in-Chief of the successful Yankees blog, Start Spreading the News. Paul lives in New Jersey with his wife.