Yellow Like a Submarine, Purple Like the Rain: A Rocking Book of Colors
Spiral-Bound | April 26, 2022
duopress labs, John Coulter (Illustrated by)
Rebinding by Spiralverse™
★★★☆☆+ from Up to 30 ratings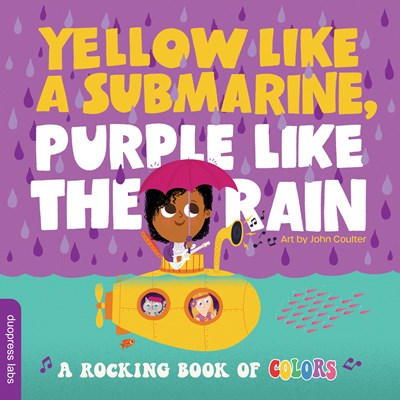 A book for rocking tots who love to jam to learn about the world of colors through references to classic songs.
Rock On, Baby!
The world of music is colorful! With simple text and playful imagery, Yellow like a Submarine, Purple like the Rain is a backstage pass to a rocking good time for both babies and adults alike. This board book celebrates classic songs and the many different hues to discover within their lyrics, whether you're humming along to "Here Comes the Sun" or "By the Light of the Silvery Moon." Check out the back of the book for a full list of songs and a quick recap of the artists!
Featured songs:
Intro:
"Yellow Submarine," The Beatles
"Purple Rain," Prince
Red:
"99 Red Balloons," Nena
"Strawberry Fields Forever," The Beatles
"Ruby Tuesday," The Rolling Stones
"Lady in Red," Chris de Burgh
Blue:
"Suite: Judy Blue Eyes," Crosby, Stills & Nash
"Blue Jean," David Bowie
"Blue Suede Shoes," Elvis Presley
"Lucy in the Sky with Diamonds," The Beatles
Black and White:
"Black Dog," Led Zeppelin
"Blackbird," The Beatles
"White Rabbit," Jefferson Airplane
"White Limo," Foo Fighters
"White Room," Cream
Silver:
"Man on the Silver Mountain," Rainbow
"By the Light of the Silvery Moon," Little Richard
Green:
"Green River," Credence Clearwater Revival
"Big Green Country," Neil Young
"Green Tambourine," The Lemon Pipers
"It's Not Easy Being Green," Jim Henson / Kermit the Frog
Yellow:
"Here Comes the Sun," The Beatles
"Goodbye Yellow Brick Road," Elton John
Pink:
"Pretty in Pink," Psychedelic Furs
"Pink Cadillac," Bruce Springsteen
"Pink Houses," John Mellencamp
Rainbow:
"Purple Haze," Jimi Hendrix
In Rainbows, Radiohead
"Orange Colored Sky," Nat King Cole
duopress labs is the creative team, led by Mauricio Velazquez de Leon, responsible for developing dozens of books and games. Recent titles include the TummyTime®, Terra Babies, SmartFlash™, and High-Contrast series; The Belly Sticker Book; 100 Pablo Picassos; My Fridge; Mix & Match Puzzle: Silly Trucks; and many more.
John Coulter grew up on a farm in Illinois and currently resides near Las Vegas, Nevada. He met his wife in the Dominican Republic, where they were both Peace Corps volunteers. John has been a singer and bassist in a few different bands. He also lost on Jeopardy! When not illustrating, John enjoys going to concerts, museums, and yard sales. His illustrations have appeared in many advertisements, publications, puzzles, books, and greeting cards. This is his first board book.