The Ultimate Meal-Prep Cookbook: One Grocery List. A Week of Meals. No Waste.
Spiral-Bound | March 2, 2021
America's Test Kitchen
Rebinding by Spiralverse™
★★★☆☆+ from 101 to 500 ratings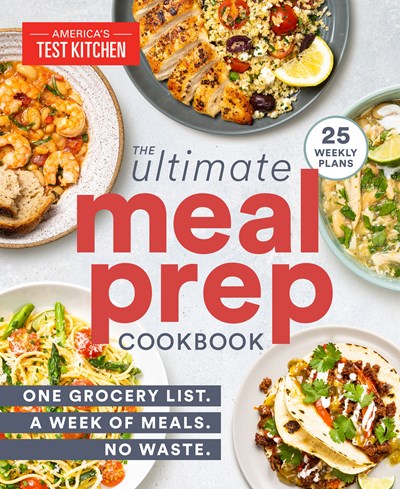 Turn meal prep aspirations into dinnertime reality

1 short shopping list gets you 5 weeknight meals

Meal prep no longer means filling your freezer with boring casseroles, dipping into the same pot of beans every day for a week, or spending all day Sunday cooking. Instead, use these smart meal plans to customize fast, fresh dinners that fit your ever-changing schedule. We've done the work of building 25 weekly plans that minimize shopping and kitchen time and guide you through prep-ahead options, make-ahead options, and ingredient substitutions. So now you can reap the benefits to make your life easier, your grocery bill lower, and your dinners better.

ATK's meal plan strategies are easy to put into practice:
* Prep your vegetables and grains for the week in a weekend "power hour."
* Prep bulk pantry ingredients ahead in a "pantry power hour" so they're ready to go in a flash.
* Cross-utilize fresh ingredients creatively to prevent food waste and dinner boredom.
* Make, store, and reheat full meals with no loss of flavor.
* Double meals or meal components to freeze half for later.

Let's-get-real features streamline your cooking:
* Weekly grocery lists max out at a dozen items.
* Active cooking time for recipes maxes out at 45 minutes.
* Loads of pantry substitution suggestions let you adapt recipes according to what you have on hand.
* To make planning even more flexible, we've added a chapter with 30 pantry meals that don't add anything to your weekly shopping list, making them perfect to prepare any night.

With a grocery list of just 11 items and some on-hand pantry staples, you can enjoy a week of Crispy Chicken with Carrot, Orange, and Chickpea Salad; Meatballs and Lemon Orzo with Mint and Dill; Teriyaki Stir-Fried Beef with Green Beans; Herb-Poached Salmon with Cucumber-Dill Salad; and Sun-Dried Tomato and White Bean Soup with Parmesan Crisps.

A thorough introduction explains how to build a strong, diverse pantry (and make the most of it), how to store prepped ingredients to keep them fresh, how to store cooked food safely, the smartest ways to reheat food, essential meal-prep equipment, and more.
America's Test Kitchen is well-known for its top-rated television shows with more than 4 million weekly public television viewers, bestselling cookbooks, magazines, websites, and cooking school. The highly reputable and recognizable brands of America's Test Kitchen, Cook's Illustrated, and Cook's Country are the work of over 60 passionate chefs based in Boston, Massachusetts, who put ingredients, cookware, equipment, and recipes through objective, rigorous testing to identify the very best. Discover, learn, and expand your cooking repertoire with Julia Collin Davison, Bridget Lancaster, Jack Bishop, Dan Souza, Lisa McManus, Tucker Shaw, Bryan Roof, and our fabulous team of test cooks!