30-Day Stay: A Real Estate Investor's Guide to Mastering the Medium-Term Rental
Spiral-Bound | December 6, 2022
Zeona McIntyre, Sarah Weaver
Rebinding by Spiralverse™
★★★★☆+ from 31 to 100 ratings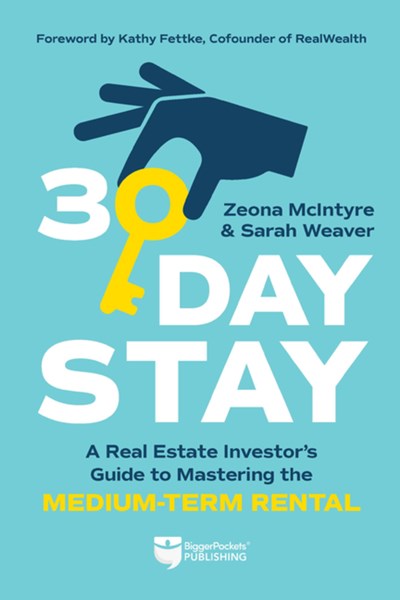 Learn the medium-term rental strategy—all the benefits of investing in Airbnbs without the hassle of turnover or the risk of changing city regulations!
30-Day Stay is a thorough guide to finding and operating a medium-term rental (MTR). The concept is simple and profitable: Instead of fighting short-term rental regulations or sacrificing cash flow to long-term rentals, the host requires a month-long minimum stay in a furnished property and reaps massive profits.
With nearly thirty properties and decades of real estate investing experience between them, authors Zeona McIntyre and Sarah Weaver introduce a powerful yet flexible real estate asset class with entertaining case studies woven in to keep you engaged the whole way through. Discover exactly why this strategy trumps short-term and long-term rentals and learn how to find the right properties in the right markets, supply the right furniture, and source the right tenants.
With the medium-term rental strategy, you will:
Stop worrying about short-term rental regulations
Handle less communication and coordination with renters
Reduce expenses on supplies, cleaning fees, and more
Simplify your bookkeeping and say goodbye to lodging tax
Gain the ability to set your rates due to less competition
Deal with less vacancy than long-term rentals and source higher profits with the right guests
Use the property yourself or as a guest apartment when needed
Find popularity in unusual locations (near a port, warehouse, etc.), allowing for cheaper property purchases
Self-manage your properties from anywhere in the world with less hassle than short-term rentals
"The medium-term rental strategy is blowing my mind. All aspiring investors should consider this route, especially with 2023's high prices and interest rates. I encourage all of my students to have as many tools in their tool belts as possible, and the MTR strategy is the latest, greatest one. I highly recommend this book!"
—Rachel Richards, Best-selling author of Money Honey and active real estate investor
"With increases in regulation and the [expenses] associated with short-term rentals, investors have historically been stuck choosing between this and the traditional long-term rental. Zeona and Sarah shatter this notion and lay out a very compelling case for an extremely under-utilized strategy appropriately coined the 'medium-term rental.' From vetting and financing to marketing and contracts, 30-Day Stay is the ultimate playbook for any investor looking to enter this profitable niche."
—Ken Corsini, Host of HGTV's Flip or Flop Atlanta and author of Profit like the Pros
"Whether you're an experienced investor or a newbie getting started, two things are clear: current market conditions have made cash flow extremely difficult, and more well-known, high-cash-flow strategies—like vacation rentals—have saturated many markets. Enter 30-Day Stay… [a] comprehensive guide to successfully investing in medium-term rentals. The authors provide objective frameworks, investor-specific case studies, and comparisons to the long-term and vacation-rental strategies… Knowing the options that are available to any potential deal is one of the most important pieces to successful investing, and this book will help you on that path."
—Paula Pant, Founder of Afford Anything
"The most successful entrepreneurs are those that can see where the market is moving. Housing needs are changing, and more and more people need to use housing for a shorter period of time… 30-Day Stay is a must-read for real estate entrepreneurs looking to stay in touch with the times and provide housing to the new 'nomads' in today's economy. Sarah and Zeona are pioneers in their field, and their book is full of stories of the inspiring life that this business can create. It is also full of best practices they've learned firsthand on how to provide rentals for the changing needs of today's traveling tenant."
—Matt Faircloth, Cofounder of the DeRosa Group and author of Raising Private Capital
"I loved all of the awesome ideas in this book. It contains a wealth of actionable and practical tips for setting up and running a medium-term rental."
—Carl Jensen, Cohost of Mile High FI Podcast
Zeona McIntyre has been an Airbnb host since 2012. After ten years of being a short-term rental property manager and consultant, she has transitioned to selling real estate to investors who are looking to house hack or live for free. She is an avid real estate investor who owns and manages a double-digit portfolio, and she teaches listeners how to achieve financial freedom through real estate on her podcast, Invest2FI. She has been featured on BiggerPockets, Mr. Money Mustache, NPR, and has been a guest on more than fifty podcasts. Zeona has been to 47 countries-she spends half the year in Boulder, Colorado and the other half traveling the world as an international pet and house sitter.