Flowers in the Dark: Reclaiming Your Power to Heal from Trauma with Mindfulness
Spiral-Bound | January 26, 2021
Sister Dang Nghiem
Rebinding by Spiralverse™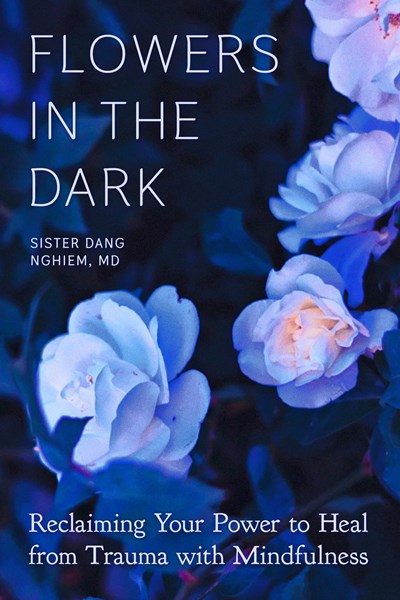 "Profound and hopeful . . . Sister Dang Nghiem integrates the neuroscience of trauma, effective treatments, and mindfulness training. Highly recommended." —Rick Hanson, PhD, author of Buddha's Brain

Learn the accessible and deeply compassionate practices for healing trauma, known as the Five Strengths of applied Zen Buddhism. More than a philosophy, these body-based practices are backed by modern neuroscience research, and they can be applied by anyone suffering from trauma to begin experiencing relief.

Mindfulness teacher Sister Dang Nghiem, MD, is an inspiration for anyone who has ever suffered from abuse, life-changing loss, severe illness, or the aftermath of war. In Flowers in the Dark, she brings together her lived experience as a survivor, certified MD, and ordained Buddhist teacher to offer a body-based, practical approach to healing from life's most difficult and painful experiences.

Offering insights from Buddhist psychology and simple somatic practices for tapping into our Five Strengths—our inner faculties of self-trust, diligence, mindfulness, concentration, and insight—Sister Dang Nghiem's approach to trauma is radically accessible; it begins with awareness of our breathing. With each chapter containing a progression of guided reflections and exercises, this book can be read as an adjunct to therapy and a helpful guide for moving through trauma in the body. With the practice of mindfulness, we can access our strength as survivors and our joy in being alive.
"What a profound and hopeful book! It offers the best practical wisdom for life's worst experiences. Sister Dang Nghiem integrates the neuroscience of trauma, effective treatments, and the penetrating insights of mindfulness training. She writes with such clarity and heart that you feel comforted and supported by her presence on every page. A beautiful book, and highly recommended."
—Rick Hanson, PhD, author of Buddha's Brain: The Practical Neuroscience of Happiness, Love, and Wisdom

"Through her own story and those of many others, Sister Dang Nghiem, MD, offers a path to healing from childhood sexual abuse through mindfulness … a path that allows one to reclaim their childhood and move forward in their lives and to heal what for many is a very deep wound. A book that every victim of childhood sexual abuse should read. Powerful and poignant."
—James R. Doty, MD, founder and director of the Center for Compassion and Altruism Research and Education (CCARE) at Stanford University School of Medicine and New York Times best-selling author of Into the Magic Shop: A Neurosurgeon's Quest to Discover the Mysteries of the Brain and the Secrets of the Heart

"In this accessible and insightful work, Buddhist nun and former physician Dang Nghiem (Healing) outlines an approach to healing from trauma by using Buddhism-inspired mindfulness. Nghiem instructs readers in meditation, breathing techniques, and self-love affirmations that address the emotional and physical aftereffects of traumatic experiences. Nghiem supplements the book's theoretical principles with scientific information from her training as a physician and personal stories both from her own life and of those pursuing healing at her monastery. These small vignettes deepen the book's emotional impact, especially when Nghiem shares her own experiences as a survivor of sexual and physical abuse. While Nghiem's techniques can be valuable to anyone seeking personal growth or comfort for pain, those who have experienced severe traumas will find those treated here with sensitivity and compassion, and may find reasons to hope."—Publishers Weekly



SISTER DANG NGHIEM, MD, ("Sister D") was born in 1968 in Vietnam during the Tet Offensive, the daughter of a Vietnamese mother and an American soldier. She lost her mother at the age of twelve and immigrated to the United States at the age of seventeen with her brother. Living in various foster homes, she learned English and went on to earn a medical degree from the University of California - San Francisco. After suffering further tragedy and loss, she quit her practice as a doctor to travel to Plum Village monastery in France founded by Zen Master Thich Nhat Hanh, where she was ordained a nun in 2000. She is the author of two books: a memoir, Healing: A Woman's Journey from Doctor to Nun (2010), and Mindfulness as Medicine: A Story of Healing and Spirit (2015). In 2019 she was honored by the Massachusetts Institute of Technology's Global Studies program to deliver the T. T. and W. F. Chao Distinguished Buddhist Lecture on "Mindfulness as Medicine."