The Complete Cooking for Two Cookbook, Gift Edition: 650 Recipes for Everything You'll Ever Want to Make
Spiral-Bound | November 28, 2017
America's Test Kitchen (Edited by)
Rebinding by Spiralverse™
★★★★☆+ from 1,001 to 10,000 ratings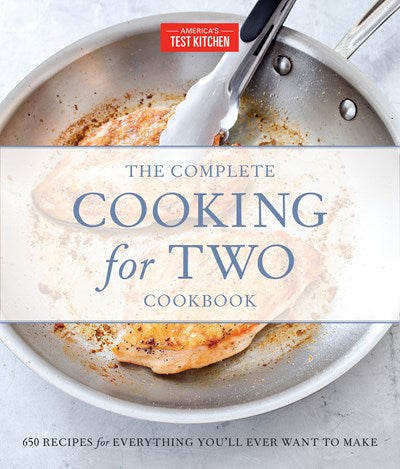 A New York Times Bestseller--more than 400,000 copies sold
The perfect for-two cookbook for newlyweds, college graduates, and empty nesters

Learn the ins and outs of successful small-scale cooking from the experts at America's Test Kitchen. This groundbreaking resource was the first to re-engineer recipes to serve just two. We put our expertise to work to scale down 650 of our best recipes including the trickiest dishes, from soups and stews to stir-fries and meatloaf, even cakes and pies. We did the math to take the guesswork out of cooking for two so you can be sure that anything you want to make--whether it's lasagna or a batch of fudgy brownies or a fluffly yellow cake--will come out perfectly every time. The extensive introduction includes clever shopping strategies to reduce waste, smart storage tricks that help extend the freshness of key ingredients, and our picks for the most useful kitchen equipment for any two-person household.
"As two singletons come together, so too will their kitchens. This modern classic and perennial best seller from America's Test Kitchen makes it much simpler by scaling down 650 recipes to feed two. Even things like stews, meatloaf, cakes, and pies have been carefully calibrated—portions, temperatures, and cooking times are all adjusted—to meet the needs of a pair. Recipes range from rather basic to a little fancy, so it's a fantastic gift for couples who know a simmer from a sizzle or for those who are ready to learn more." -- NYT Wirecutter

"The go-to gift book for newlyweds, small families, or empty nesters." -- Orlando Sentinel
America's Test Kitchen is well-known for its top-rated television shows with more than 4 million weekly public television viewers, bestselling cookbooks, magazines, websites, and cooking school. The highly reputable and recognizable brands of America's Test Kitchen, Cook's Illustrated, and Cook's Country are the work of over 60 passionate chefs based in Boston, Massachusetts, who put ingredients, cookware, equipment, and recipes through objective, rigorous testing to identify the very best. Discover, learn, and expand your cooking repertoire with Julia Collin Davison, Bridget Lancaster, Jack Bishop, Dan Souza, Lisa McManus, Tucker Shaw, Bryan Roof, and our fabulous team of test cooks!