I'll Never Get All of THAT Done!: A Story about Planning and Prioritizing (Illustrated)
Spiral-Bound | February 11, 2020
Bryan Smith, Lisa M. Griffin (Illustrated by)
Rebinding by Spiralverse™
★★★★☆+ from Up to 30 ratings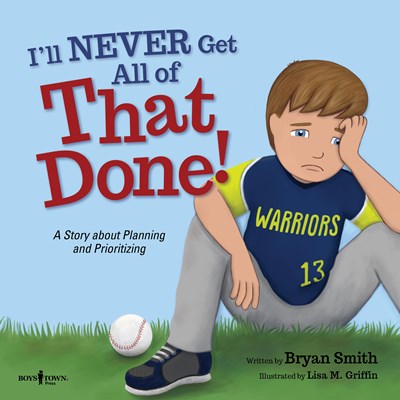 Blake's to-do list is just too long! As his responsibilities pile up and his deadlines quickly approach, will Mom's advice about using the 3 Ps – prioritizing, planning, and posting reminders – make a difference? Find out in this relatable story.
Blake's baseball team is doing a bake sale fundraiser. He just can't wait for his mom to whip up a batch of her famous chocolate chip cookies!


That is, until Mom reminds Blake that it is HIS fundraiser, so he needs to help. Blake has a to-do list that's just too long. How can his parents and teachers expect him to finish his homework, clean his room AND bake cookies for the baseball bake sale? Don't they know there's something urgent he has to do now - like play video games?!


When Mom encourages Blake to follow the 3 Ps - prioritizing, planning and posting a reminder of what needs to be done - he's unimpressed. But as his responsibilities pile up and his deadlines quickly approach, he has to figure out what needs doing now. Can following Mom's advice and using the 3 Ps really make a difference?


School counselor and award-winning author Bryan Smith reveals the answer in the relatable story about the power of preparation and planning. It's the latest tale from the author's Executive Function series written for students in grades K through 5.


Tips for parents and educators to help reinforce the message of time-management and self-reliance in children are included.


The series also includes:
What Were You Thinking?
My Day Is Ruined!
It Was Just Right Here!
Of Course It's a Big Deal!
Time to Get Started!
What's the Problem?
How Did You Miss That?
Fix It with Focus
How Do I Remember All That?
"Planning and prioritizing is such an important skill for children to learn. This book breaks the skill down into manageable steps. I am excited to share it with the students in my class to help them practice planning and prioritizing their time on projects, schoolwork, and at home!" – Shannon Price, elementary teacher
Bryan Smith has worked in the education field for more than 15 years, first as an elementary school teacher then as a school counselor. He excels at teaching students life skills that will take them far and help them succeed. He is also a popular children's author whose other titles include What Were You Thinking? and My Day Is Ruined! His Executive FUNction children's book series won the Counselor's Choice Award, which is awarded by Licensed Mental Health Therapists for "Recognition of Quality in the Field."