Move Your DNA: Restore Your Health Through Natural Movement, 2nd Edition (2nd Edition, Enlarged)
Spiral-Bound |
K Bowman
Rebinding by Spiralverse™
★★★★☆+ from 1,001 to 10,000 ratings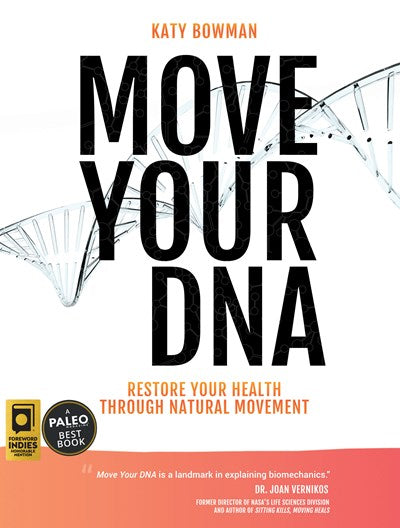 Bestselling Move Your DNA has shaken up the health and fitness world with this message: there is more to movement than exercise.
"A landmark in explaining biomechanics." Dr. Joan Vernikos, Former Director of NASA's life science division and author of Sitting Kills, Moving Heals.
It's often said that "movement is medicine," but rarely is the "how" behind the power of movement explained. It's not only our whole body that's moving; our cells are being moved as our limbs push and pull to locomote us around, and each movement moves our cells uniquely.
Some of the "big ideas" in this paradigm-shifting book include:
The human body evolved to a tremendous amount of certain movements―like walking, squatting, hanging, and carrying―loads our bodies still require to work well, even though they're mostly gone from our "convenience-centric" culture.

Many of the ailments we face today relate to how little we move and how stiff our bodies are when we do move. Body issues are often more accurately symptoms of "movement malnutrition."

Why a physical therapist or personal trainer is coaching you in alignment or "good form": we're adapting most to our daily positioning!

It's not only "move more," it's "move more of your body parts!" (All bodies, couch potatoes to high-level athletes have areas that can be nourished with better movement.)

We're using exercise like "movement vitamins" instead of addressing the deeper issue of a poor movement diet. We should be using both!

Move Your DNA also contains:

40+ corrective exercises to help you find your "sticky spots"―areas of your body that just aren't moving (even when the rest of you moves a lot)

alignment checks and a guide to increasing your walking movements

simple lifestyle changes to get you moving more (without always needing to add exercise!).
Keen laypeople, yoga and Pilates teachers, fitness enthusiasts, personal trainers, physical therapists, and athletes can all use this humorous, passionate, and science-based guide to finally getting the movement every body requires.
"Move Your DNA is a gift of complex information presented in an easily actionable style. Katy Bowman reminds us we are not in fact at the mercy of our genes―and she shares how to get started right away." —Gabrielle Reece, professional athlete and author of My Foot Is Too Big For The Glass Slipper
Bestselling author, speaker, and a leader of the Movement movement, biomechanist Katy Bowman, M.S. is changing the way we move and think about our need for movement. Her eight books, including the groundbreaking Move Your DNA, have been translated into more than a dozen languages worldwide.
Bowman teaches movement globally and speaks about sedentarism and movement ecology to academic and scientific audiences such as the Ancestral Health Summit and the Institute for Human and Machine Cognition. Her work is regularly featured in diverse media such as the Today Show, CBC Radio One, the Seattle Times, the Joe Rogan Experience, and Good Housekeeping.
One of Maria Shriver's "Architects of Change" and an America Walks "Woman of the Walking Movement," Bowman consults on educational and living space design to encourage movement-rich habitats. She has worked with companies like Patagonia, Nike, and Google as well as a wide range of non-profits and other communities to create greater access to her "move more, move more body parts, move more for what you need" message.
Her movement education company, Nutritious Movement, is based in Washington State, where she lives with her family.