Grumplets and Pests: Zoey and Sassafras #7
Spiral-Bound | October 8, 2019
Asia Citro, Marion Lindsay (Illustrated by)
Rebinding by Spiralverse™
★★★★☆+ from 501 to 1,000 ratings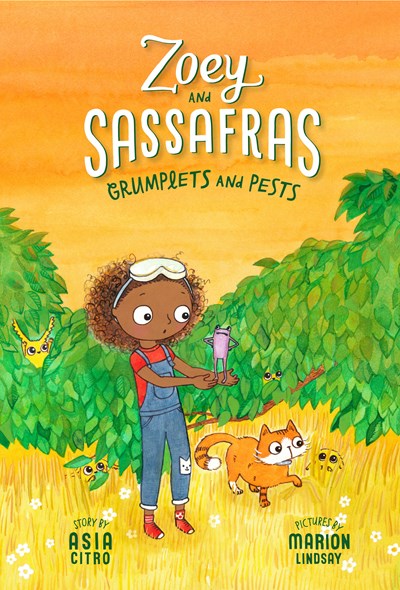 In the seventh book, Zoey and Sassafras are excited to enjoy their summer with their magical friends. But . . . why is everyone so grumpy? A bunch of bad days one after the other lead Zoey to suspect that something more is afoot. It's up to Zoey and Sassafras to solve the mystery before they end up with one bummer of a summer!
Each story in the Zoey and Sassafras series features a new magical animal with a problem that must be solved using science. There isn't a set formula for each book; Zoey sometimes needs to run experiments, while other times she needs to investigate a mystery, and yet other times she needs to do research. Zoey models how to keep a science journal through her handwritten entries in each story. Each story is complete with a glossary of the kid-friendly definitions for scientific terms used. The series highlights child-led inquiry science and the topics covered align with both Common Core and Next Generation Science Standards.
Asia Citro has an M.Ed in Science Education and was a classroom science teacher for many years before deciding to stay home full time after the birth of her daughter. She lives near Seattle with her wonderful husband, two awesome children, and two destructive cats. She started writing Fun at Home with Kids in February of 2013 and has since spent many late nights experimenting with new play recipes, sensory materials, and science experiments. She is the author of 150+ Screen-Free Activities for Kids: the best and easiest playtime activities from FunAtHomeWithKids.com, The Curious Kid's Science Book: 100+ Creative Hands-on Activities for Ages 4-8, A Little Bit of Dirt: 55+ Science and Art Activities to Reconnect Children with Nature, and the chapter book series Zoey and Sassafras. Her work has been featured on Apartment Therapy, The Chicago Tribune, Today, Disney Baby, MSN, King 5 TV, and Highlights, among others. To read about her most recent late night discoveries or to see more photos of her adorable kids at play, visit www.funathomewithkids.com.

Marion Lindsay has always loved stories and pictures, so it made perfect sense when she decided to become a children's book illustrator. She has been awarded the Egmont Best New Talent Award. When she's not illustrating children's books, Marion paints glass and makes jewelry. Find out more at marionlindsay.co.uk. Marion lives and works in Gloucestershire, England.