Lost in NYC: A Subway Adventure : A TOON Graphic
Spiral-Bound | May 5, 2020
Nadja Spiegelman, Sergio Garcia Sanchez (Illustrated by)
Rebinding by Spiralverse™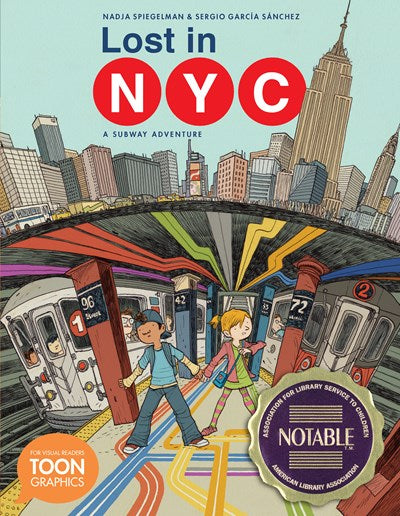 Lost on a school fieldtrip, Pablo learns to navigate the New York subway and his feelings about his new home.
Also available in Spanish as
Perdidos en NYC: una aventura en el metro
The sights . . . the sounds . . . the SMELLS! New York's crowded subway system is known for many things, but being easy on a lost kid isn't one of them. When Pablo gets separated from his new schoolmates during his first field trip in New York City, he doesn't know how he'll be able to find them again. Luckily, he has a little knowledge, a new friend, and the surprisingly approachable city itself to guide his way. This story features maps, archival photos, and fascinating facts to help readers explore the subway without ever having to get caught like Pablo in the mob of Times Square. It brings all the bustle and beauty of NYC to young readers around the world.
This story is also available in Spanish as Perdidos en NYC: una aventura en el metro
"With humor and sensitivity, Spiegelman reveals how getting lost can be the first step toward finding your way—while also giving NYC residents and visitors alike a valuable primer on the subway system and its history." --Publishers Weekly STARRED REVIEW "García's adroit art bursts with activity, while the story highlights the ingenuity city life brings out in the young. Packed with subway maps, lore and miscellany, it's sure to be treasured by tweens and adults, too." --New York Times "Required reading for anyone, tourist or resident, mystified by or anxious about using arguably the greatest public-transportation system on the planet." --Kirkus Reviews STARRED REVIEW
Nadja Spiegelman is the Eisner-nominated author of the Zig & Wikki series of science comics for young children. A native New Yorker, she prides herself on important subway know-how such as where to stand to get a seat and how to sleep without missing her stop. She now spends her time between Paris and Brooklyn.

Sergio Garcia Sanchez is one of Spain's most celebrated experimental cartoonists. He has published more than forty-five books and his work has been translated into nine languages. He is also a professor of comics in France and Spain and currently lives in Granada with his wife and his children.