Life's Great Question: Discover How You Contribute To The World
Spiral-Bound | February 4, 2020
Tom Rath
Rebinding by Spiralverse™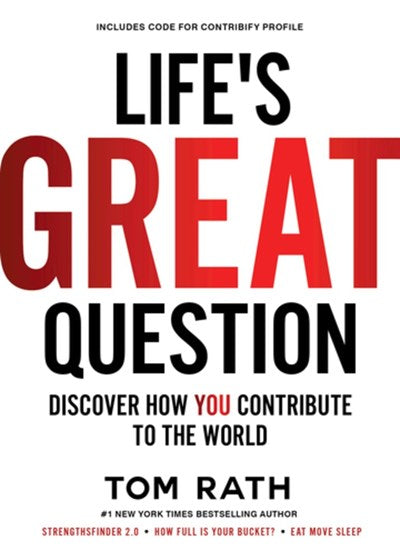 Life is not what you get out of it . . . it's what you put back in.
Yet our current means for summarizing life's work, from resumes to salaries, are devoid of what matters most. This is why the work we do is often bad for our wellbeing, when it should be making us happier and healthier.
What are the most meaningful contributions we can make? This is Life's Great Question.
Life is about what you do that improves the world around you. It is about investing in the development of other people. And it is about efforts that will continue to grow when you are gone.
Life's Great Question will show you how to make your work and life more meaningful, and greatly boost your wellbeing. In this remarkably quick read, author Tom Rath describes how finding your greatest contribution is far more effective than following talent or passion alone.
More than a book, each copy includes a code for an online program that identifies the most significant contributions you can make.
This deeply practical book will alter how you look at your work and change the way you live each day.
PRAISE FOR TOM RATH'S PREVIOUS BESTSELLERS:
STRENGTHSFINDER 2.0 • HOW FULL IS YOUR BUCKET? STRENGTHS BASED LEADERSHIP • WELLBEING EAT MOVE SLEEP • ARE YOU FULLY CHARGED?
"Fortune 500 leaders look to him as one of the greatest thinkers of his generation."
—Washingtonian magazine


"Tom Rath . . . with two books in the world's top ten . . . offers readers advice on how to identify their hidden strengths [and] become highly effective."
— Economist

". . . prolific business author Rath . . . offers practical tips to make long-lasting behavior changes."
— Publishers Weekly

"Rath's book (StrengthsFinder 2.0) is to bestseller lists what the Big Dipper is to our night sky. You can't miss it."
—Forbes


"One of the most successful nonfiction writers of his generation."
—Daniel H. Pink, bestselling author of Drive and When
"How to live? That is the question and Tom Rath has the answer . . . Rath draws on his decades of research and his deep humanity to point you in the right direction, and to instill your journey with joy and meaning."
—
Susan Cain, bestselling author of Quiet
Tom Rath is an author and researcher who has spent the past two decades studying how work can improve human health and well-being. His 10 books have sold more than 10 million copies and made hundreds of appearances on global bestseller lists.
Tom's first book, How Full Is Your Bucket?, was an instant #1 New York Times bestseller and led to a series of books and activities for kids that are used in classrooms around the world. His book StrengthsFinder 2.0is Amazon's top-selling non- fiction book of all time.
During his 13 years at Gallup, Tom was the Program Leader for the development of Clifton StrengthsFinder and also led the organization's employee engagement, wellbeing, and leadership practices. Tom has served for the past five years as a Gallup Senior Scientist and was Vice-Chair of the VHL cancer research organization.
Most recently, Tom co-founded a publishing company; he is also an advisor, investor, and partner in several startups. Tom holds degrees from the University of Michigan and the University of Pennsylvania and lives in Arlington, Virginia with his wife, Ashley, and their two children.