Flight from the Dark: Kai Series
Spiral-Bound | May 2, 2023
Joe Dever
Rebinding by Spiralverse™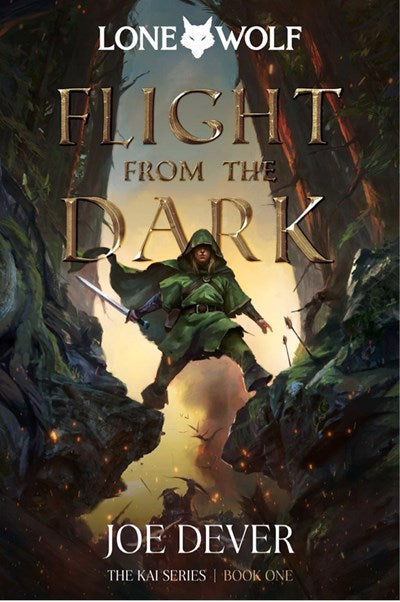 The classic role-playing adventure returns! YOU are the sole survivor of a devastating attack on the monastery of the Kai, who for thousands of years have protected the realm of Sommerlund. The servants of darkness hunt you across every turn of the page. Can you reach the capital and warn the king of the gathering evil in time? Will you survive? Choose your skills and your weapons wisely—your choice may be the difference between life and death in the most fantastic and terrifying journey of your life. For you are now the last of the Kai—you are LONE WOLF. The first episode in a unique interactive series of 32 books. A must-read for fans of gaming and fantasy.

• The relaunch of a beloved classic.
• The DEFINITIVE EDITION series from Holmgard Press is the first time the entire 32-book saga has been produced in a single consistent format.
• Drawing on the best artwork from across the years, with edited text and rebalanced gameplay using a dedicated team of Lone Wolf scholars.
• Brand new illustrations and appendices of lore and history.
• The authoritative lasting testament to the world of LONE WOLF.
Lone Wolf is based on the adventure gamebooks created by Joe Dever (1956-2016), published between 1984 and the present. A major contribution to the fantasy culture of the 80s, they popularised and inspired the choose-your-own-adventure style of books. Unlike any other gamebook series, Lone Wolf is one continuous epic narrative. To date there are over 30 books in the Lone Wolf series.