Cook Smart, Eat Well: Mayo Clinic recipes and strategies for healthy living
Spiral-Bound | January 4, 2022
Jennifer A. Welper
Rebinding by Spiralverse™
★★★☆☆+ from Up to 30 ratings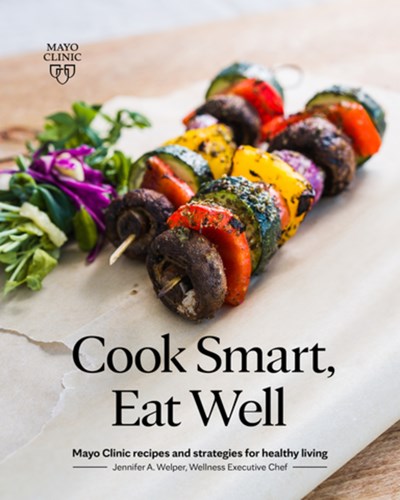 Healthy, flavorful meals are well within reach for anyone. This book is full of recipes that are easy to put together quickly with basic cooking techniques. Delicious kid friendly recipes, healthy desserts, snacks and side dishes. Being successful in the kitchen doesn't mean you need to be a gourmet chef. Learn standard food preparation methods and cooking techniques for preparing a wide variety of tasty and healthy meals.Forthcoming
Mayo Clinic's Wellness Executive Chef brings you her expert tips, strategies, and more than 100 recipes to make healthy cooking at home more flavorful, less time-consuming, and a routine part of a healthy lifestyle.

To improve your health and well-being, go beyond the idea of quick and easy recipes to establish smarter, time-saving habits in the kitchen. With Cook Smart, Eat Well by Jennifer Welper, the Wellness Executive Chef at Mayo Clinic, learn how to take a fresh approach to healthy eating by cooking more efficiently, using simple ingredients with bold flavors, and meal prepping with ease, so you can keep your family eating healthy and nutritious meals all week long.

More than 100 original recipes offer something for every meal, including bright salads and soups, filling breakfasts, hearty comfort foods, savory lean meats and burgers, kid-friendly meals, and delicious desserts, as well as a week's worth of vegetarian-friendly dishes that are completely meat-free. Alongside each recipe are notes from Chef Jen that give ideas for variations and substitutions, as well as tricks for maximizing flavors to make any homemade meal taste gourmet.

Cook Smart, Eat Well includes recipes for:

· Broccoli and smoked gouda frittata

· Tomato, basil, and mozzarella panini

· Broccoli cheddar soup

· Basil pesto stuffed mushrooms

· Savory mashed sweet potatoes

· Blackened fish tacos

· Black bean burgers

· Cranberry apple crisp

In addition, this photo-illustrated guide gives cooks of any level solid footing in the kitchen by helping you hone your cooking skills and learn time-saving shortcuts. You'll find Jen's best tips for investing in essential basic equipment, finding quality ingredients, mastering preparation methods, familiarizing yourself with a variety of spices and sauces, and safely storing and reheating leftovers. And whether you're cooking for one or for a large family, you'll get expert advice on incorporating meal planning into your routine in a way that streamlines your shopping and cooking, while allowing for flexibility and variety throughout the week.

With Cook Smart, Eat Well, learn how to plan meals, prep food efficiently, and minimize your cooking time to make eating satisfying, nutritious meals part of your healthy lifestyle.


Wellness Executive Chef Jennifer Welper found her niche in the kitchen while growing up on her family's dairy farm, but her career and passion for healthy, flavorful cuisine truly took shape after the sudden loss of her grandfather, who had struggled with diabetes, heart disease, and controlling his weight. Jen now combines culinary arts with nutrition education. Through delicious recipes and easy tips that incorporate whole-food ingredients, loads of vegetables, lean proteins and lots of natural flavor, Jen aims to transform the way people think about cooking healthfully and teach them how to prepare simple, practical meals that are bold and flavorful.

Chef Jen received her culinary arts degree at Johnson & Wales University, Providence, RI. She has held positions at the Hyatt Hotel in Newport Rhode Island and at Hilton Head Health before joining the Dan Abraham Healthy Living Center at Mayo Clinic in Rochester, MN. As Mayo Clinic's Wellness Executive Chef, Chef Jen creates recipes for practical, healthy meals and teaches patients how to meal plan and prep for a healthy lifestyle. She recently received the honor of Distinguished Chef of the Year by Johnson & Wales University.