The Gentleman's Wardrobe: Vintage-Style Projects to Make for the Modern Man
Spiral-Bound |
V Mooncie
Rebinding by Spiralverse™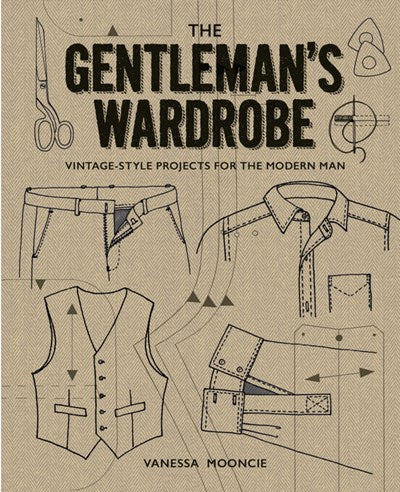 For debonair gentlemen who eschew denim if favor of tweed, and feel that grooming and gallantry should not be consigned to history, this book will suit your needs. The Gentleman's Wardrobe features a cornucopia of elegant garments and accessories to sew, this beautifully illustrated book is full of inspiration and charm.
Including beautiful garments such as pajamas, vest, trousers and jacket, plus indispensable accessories such as a cravat tie, flat cap and wallet, there's something for every fellow who's looking to be urbane than urban. Whether you make these smart projects for yourself of a loved one, this selection of vintage-style projects will put a spring in anyone's step.
Vanessa Mooncie spent many happy hours as a child sitting with her mother and grandmother learning to knit and crochet. She went on to study fashion and textile design and became a children's wear designer, illustrator and interior designer. Vanessa now specializes in silkscreen work (www.vanessamooncie.com) and designing crochet jewellery through her company Kissy Suzuki (www.kissysuzuki.com). She lives with her family in a rural village in the south of England. Vanessa has written many successful books for GMC Publications, including Animal Hats, Crocheted Wild Animals, Sew Adorable, And Sew to Bed and Crocheted Sea Creatures. She is also a regular contributor to other craft books and magazines.