Spaghetti!: An Interactive Recipe Book
Spiral-Bound | April 26, 2023
Lotta Nieminen
Rebinding by Spiralverse™
★★★★☆+ from Up to 30 ratings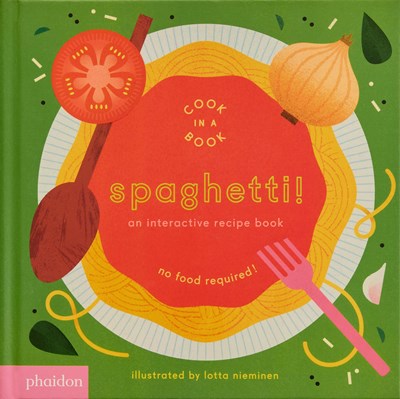 Cook pasta from scratch inside this interactive recipe book – fry, simmer, boil, drain, grate and more!
Cook pasta from scratch inside this interactive recipe book – fry, simmer, boil, drain, grate and more!
A simple but accurate recipe takes young readers through the steps of cooking spaghetti, from chopping onions to serving up a plate of steaming hot pasta with tomato sauce, while the interactive novelty features invite them to participate in the process ... without any chance of spilling anything. Move the tab up and down to add the onions and garlic, lift the flap to open the can of tomatoes, pull the tab to bring the water to a boil, use the punch-out fork to twist some spaghetti onto your fork to taste, and more. One hundred percent adult-free, danger-free, and mess-free – whether you are cooking outside or inside this book, spaghetti has never been so independent!
Ages 2 - 4
'Terminally cute.' – New York Magazine's The Strategist
'Spaghetti! is more than just a list of ingredients. Colorful illustrations and 3D elements make flipping through its pages feel like a special treat, down to the dish you'll be able to devour for dinner by the end.' – Domino
'Ebulliently illustrated.' – School Library Journal
'So much fun … The interactive elements are pretty sturdy and hold up to repeated use.' – Book Riot
'The bright and bold illustrations and the 3D elements make this an ideal hardback chunky book for young, easily distracted eyes and hands.' – Honest Mum
'The paper engineering! The innovation! … I can't think of any better series to showcase.' – Kids Lit is Lit
'For a tiny book, it packs a punch.' – Bookworm for Kids
'Immensely fun and great for building vocabulary. Littles will love the independence of cooking and parents will love that it's totally mess-free!' – Little Cub Literacy
'Creative and engaging.' – Because My Mother Read
'Perfect for summer learning for your little ones.' – Sincerely Stacie
'[A] cute read.' – Little Readers
'A fun, interactive book.' – Picture Book Playdate
'Blocky and minimalist … [and] a fun addition to a play cooking kit.' – Jean Little Library
'Brilliant paper engineering, combined with real recipes and delicious colors and illustrations, make [this] stunning board book a perfect choice for toddlers and young preschoolers.' – Noodle Nuts Kids Books
Lotta Nieminen is an illustrator, graphic designer, and art director from Helsinki, Finland, running her own New York-based studio. In 2014, she was nominated for Forbes magazine's annual 30 Under 30 list. In 2010, she received the Art Directors Club Young Guns award. Her client list includes Google, The New York Times, and Vanity Fair, among others.