Spider-Man: Into the Spider-Verse -The Art of the Movie
Spiral-Bound | December 18, 2018
Ramin Zahed
Rebinding by Spiralverse™
★★★★☆+ from 1,001 to 10,000 ratings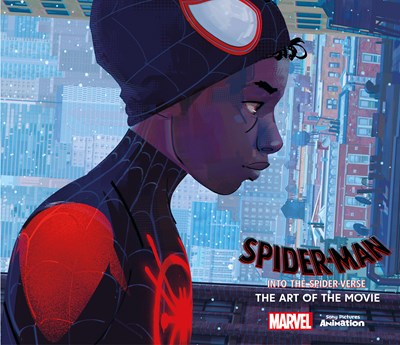 Discover the world of the multi-award-winning Spider-Man: Into the Spider-Verse in this stunning collection of art. Packed with concept art, final designs, and artist commentary plus previously unseen storyboards.

Phil Lord and Christopher Miller, the creative minds behind The Lego Movie and 21 Jump Street, bring their unique talents to a fresh vision of a different Spider-Man Universe, with a groundbreaking visual style that's the first of its kind. Spider-Man: Into the Spider-Verse introduces Brooklyn teen Miles Morales, and the limitless possibilities of the Spider-Verse where more than one wears the mask.

Unmasking the artistry behind the hotly-anticipated movie, Spider-Man: Into the Spider-Verse The Art of the Movie contains concept art, sketches, storyboards and will give you fascinating insights into the creative process. With exclusive commentary from the creators, plus a foreword written by Brian Michael Bendis, this extraordinary collection of art will take readers into the Spider-Verse.
"The work that's been done on this film absolutely deserves to be poured over" - Birth.Movies.Death

"astounding" - SyFy Gallery Feature

"the visual look of Spider-Man: Into the Spider-verse is a marvel. Seeing how they came to the design choices they did is...worth the price of this book and then some" - Vespe's Holiday Gift Guide

"the making of a masterpiece" - CBR.com

"This is an art book that'll only increase the hype to rewatch and enjoy the incredible film" - Adventures in Poor Taste

"This art book is gorgeous...a great companion if you enjoyed the film and want to know more about how it was created" - Geekisphere

"Beautifully designed and laid out, the book is an intimate portfolio resplendent with color character renderings, setting concepts, story-boarding and start-to-finish designs." - Boyce McClain, Collector's Corner

"a stunning dive into one of 2018's finest features...as memorable and accomplished as anything in the final product" - The Film Stage

"These art books are gorgeous, each one a perfect complement to a well-read living room or workspace" - Daily Beast
Editor in chief of Animation Magazine, and former senior editor at Daily Variety, Zahed has been covering the entertainment industry for over 15 years. As well as writing The Art of The Iron Giant, Home, The Little Prince, Rise of the Guardians, Puss in Boots and The Art of DreamWorks Animation, Zahed has written for the Los Angeles Times, Hollywood Reporter, LA Weekly and Movieline Magazine on film, animation, vfx and TV.