Watercolour: Techniques and Tutorials for the Complete Beginner
Spiral-Bound |
Paul Clark
Rebinding by Spiralverse™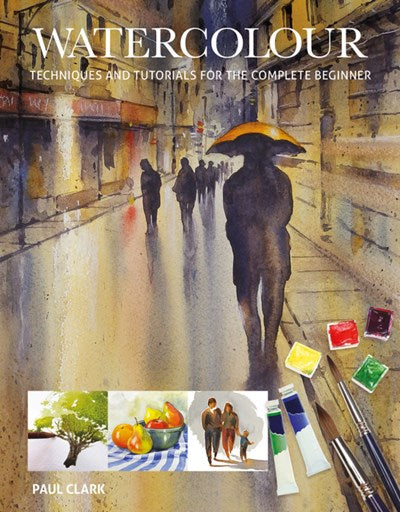 Designed for beginner watercolor painters, Watercolour lays the groundwork for mastering the craft, with a complete guide to the necessary tools and materials, an introduction to the basic techniques, and 10 step-by-step paintings.
Included as a bonus are three feature spreads that focus on areas of particular interest for beginners, including painting special effects, trees, and skies. Clear instructions and helpful tips provided throughout are perfect for beginners, but even intermediate painters will find the techniques and projects worthwhile.
"…if you've got the hang of the basics, straightforward lessons in washes, colour, landscapes, buildings, still lifes and animals might just be what you're looking for. Add in skies, reflections, water and special effects and it fits the bill nicely."
-The Artist magazine
Paul Clarke is a professional illustrator who has been teaching watercolour painting and drawing techniques to adult learners for over 11 years. Paul has run his own successful design studio for over 25 years as well as a thriving art school with several participating tutors.