Curate: Inspiration for an Individual Home
Spiral-Bound | July 6, 2021
Lynda Gardener, Ali Heath
Rebinding by Spiralverse™
★★★☆☆+ from 31 to 100 ratings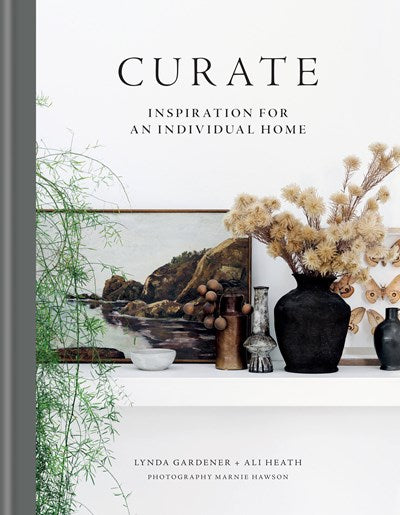 An inspirational guide to home decorating with the perennially popular elements of a neutral palette, natural ingredients and a carefully curated mix of vintage and modern pieces - from influential stylist and decorator, Lynda Gardener and interiors writer and stylist, Ali Heath

***

"This gorgeous book marries inspirational ideas with real interiors, to help you curate a home that reflects your personal story and style." Kate Watson-Smyth of Mad About The House

"Helpfully divided into eight key elements that bring a space to life, this beautifully photographed book by Australian interior designer Gardener and journalist Heath, makes the perfect accompaniment to a house refresh." Elle Decoration

"A paradise for the curious, Lynda and Ali present an interior perspective so cosy that you already feel you live there. Textural spaces cleansed in monochromatic hues - with ideas that invite your imagination to consider home and collections in a new light." Martyn Thompson - Designer, Photographer, Creative Director

Doyenne of the unique and decorative, Australian interior stylist and boutique hotelier, Lynda Gardener, is always on the hunt for finds to enhance her homes and decorating projects. Her ability to curate and display these personal treasures has created a trademark style that is loved internationally.

Curate, the highly anticipated book by creative duo, Lynda Gardener and journalist and stylist Ali Heath, reveals how to create a home that is truly individual. With their shared love of a monochrome aesthetic and natural imperfections, they explore the eight Elements that bring a space to life: palette, nature, textiles, lighting, a combination of old and new, storage, collections and art. Ten aspirational homes show the style in practice, including a converted warehouse, one-bedroom studio, bijoux apartment, historic cottage, country estate, new-build barn, remote shack, period townhouse and rural retreat.

With gloriously evocative photography and plenty of down-to-earth ideas, Curate will encourage the reader to embrace their individual style, dream big and create a timeless interior of their own.

"Two of the most sought-after creatives, working together from opposite ends of the world, which has resulted in the most inspiring book." - Sally Bailey, Founder of Baileys Home

"A must-read for all confirmed monochromist or mono-curious design aficionados, Ali and Lynda's new book confirms that an edited colour palette is everything but monotonous." - Hilary Robertson, Interior Stylist, Writer

"Everyone knows that to live amongst books is a gift. Curate is one of those books you will come back to, like a time worn painting, its contents are rewarding, rich and encourage you to chase your own unique style of domestic bliss." - Megan Morton, Interior Stylist, Masterclass Instructor, Studio Owner

"Every page of Curate is filled with an inspirational overload both in pictures and words. Working with texture, layers, colour and special personal touches it is a pure feast for the eyes." - Hans Blomquist, Author, stylist, art director

"The beautiful interiors captured in Curate are layered with a sense of nostalgia and nurture. This is what makes a house a home." - Sibella Court, Author, stylist, shopkeeper

"What a joy this book is to flip through and let sink in. At once inspirational and, yet, still approachable, Ali's beautiful words and Lynda's gorgeous styling come together to create the sort of worlds you want to dive right into and live in forever." - Lindsey Bro, Writer, Creative, Founder @cabinlove

"When two incredibly talented creatives Ali and Lynda, combine their talents and produce the most inspiring book full of texture, layers and most of all homes full of soul. So beautifully written and photographed giving us all a must have book that we will continually refer to and thoroughly enjoy." - Kate Abt @kateabtdesign

Lynda Gardener is an Australian-based interior stylist. She has been credited internationally as the founder of one of the first global lifestyle stores, Empire, which she started in her 20s in Melbourne, and ran successfully for over two decades. Simultaneously, for the past 30 years she has slowly built a portfolio of individual boutique hotel rental properties, that have become synonymous with her eclectic style, collector's eye and desire for the unique. Lynda also consults on design and interior styling projects, for both commercial and residential clients, in Australia and abroad. Her work is regularly featured in high-profile international press, including Country Style, Elle Decoration, Homes & Gardens, Livingetc, Modern Rustic, Vogue Living and VT Women. Her work has also featured in books including Diane Keaton's The House that Pinterest Built and Grace Bonney's Design Sponge at Home.
Instagram @lynda.gardener www.lyndagardener.com
Ali Heath is a UK based interiors writer, stylist and content creator and has over 15 years' freelance experience, working with prestigious interior and lifestyle magazines. Her work is featured regularly in many notable titles including Country Living, Elle Decoration, Elle Decoration Country, Homes and Gardens, House & Garden, Livingetc, Modern Rustic, Red, the Telegraph and YOU Magazine. She collaborates with various leading photographers and her work is also syndicated internationally. Prior to going freelance, Ali set up a successful antiques business, after working as New Business director for a top below-the-line marketing agency.
Instagram @aliheath_uk www.aliheath.co.uk
Marnie Hawson is an Australian-based interior, travel and lifestyle photographer. Her work is published in many of the world's top interiors magazines, including Australian House & Garden, Condé Nast Traveller, Country Style, Elle Decoration, Gourmet Traveller, Green, Habitus, Harper's Bazaar, Home Beautiful, Homes & Garden, Livingetc and Real Living. As a former environmental scientist, her work is focused on purpose-driven photography for people doing good things. As a team Marnie, Lynda and Ali regularly collaborate for publications in the UK, and Marnie is represented internationally by Living Inside agency, in Milan.
Instagram @marniehawson www.marniehawson.com.au