The Sandman Book Four
Spiral-Bound | May 17, 2022
Neil Gaiman, Marc Hempel (Illustrated by), Michael Zulli (Illustrated by), Various (Illustrated by)
Rebinding by Spiralverse™
★★★★☆+ from 101 to 500 ratings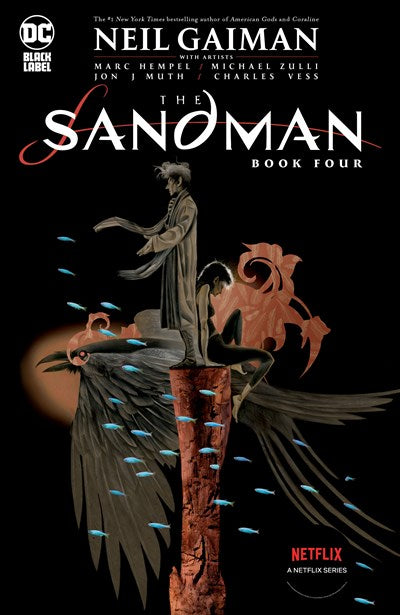 From the award-winning writer of American Gods and Coraline, The Sandman is one of the most popular and critically acclaimed graphic novels of all time. Neil Gaimain's award-winning masterpiece set the standard for mature, lyrical fantasy in the modern comics era.

Illustrated by an exemplary selection of the medium's most gifted artists, the series is a rich blend of modern and ancient mythology in which contemporary fiction, historical drama, and legend are seamlessly interwoven.

In this climactic final volume, drawn by Marc Hempel, Jon J Muth, Charles Vess, and Michael Zulli, with contributions from D'Israeli, Teddy Kristiansen, Kevin Nowlan, and more, Dream becomes the target of the Furies—unstoppable agents of vengeance. Dark forces are at work, and what they set in motion will demand a sacrifice greater than any the Dreaming has yet known. The thrilling conclusion of The Sandman weaves together threads and pieces building since the beginning of the series, collecting issues #57-75 and stories from Vertigo Jam #1 and Dust Covers: The Collected Sandman Covers.
Creator of The Sandman and one of comics' most accomplished writers, Neil Gaiman is also the New York Times bestselling author of the novels Anansi Boys, American Gods, Stardust, and Coraline, as well as the short story collections M Is for Magic and Smoke and Mirrors and the multimedia creation Neverwhere. He also co-wrote the Jim Henson Productions film MirrorMask with longtime collaborator Dave McKean, illustrator of the Gaiman-written graphic novels Mr. Punch, Violent Cases, and Black Orchid. Among his many awards are the Hugo, the Nebula, the Eisner, the Harvey, the Bram Stoker, and the World Fantasy Award. Originally from England, Gaiman now lives in the United States.

Author Residence: Menomonie, Wisconsin

Author Hometown: Portchester, Hampshire, England