Trope Chicago
Spiral-Bound |
Sam Landers (Edited by), Tom Maday (Edited by)
Rebinding by Spiralverse™
★★★★☆+ from Up to 30 ratings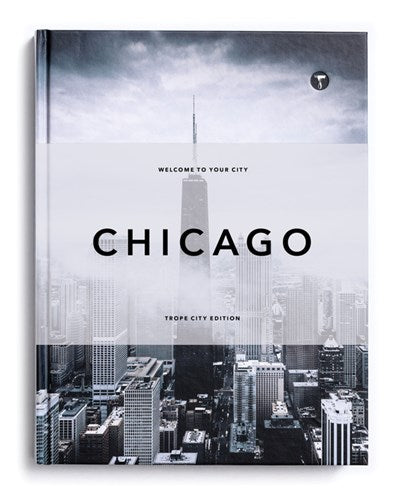 Trope Chicago is a highly curated collection of photographic images from an active community of urban photographers who have passionately captured their city like never before.
The first in the City Edition series of books by Trope Publishing Co., Chicago showcases a unique view of one of the most photographed cities in the world by 27 independent photographers from Chicago and beyond. This carefully curated and beautifully bound collection of 206 stunning photographs offers a perspective of Chicago as it has never been seen before.
Collectively, the photographs represent a distinctive urban view of the city. The Chicago Edition is divided into eight chapters, primarily focused on the lakefront and downtown areas showcasing iconic buildings, streets and parks. Each chapter is accompanied by a map along with the locations where the photographs were taken. The images reflect the interests of the photographers rather than serving as a comprehensive guide to the city. In many cases, there are several photographs of the same location, shot at different times of the day, in different seasons, with different tones. These studies offer a strong point-of-view, whether digitally processed, filtered, toned, or sharpened — giving each image a contemporary and urban sensibility.
Editors Sam Landers and Tom Maday spent nearly a year identifying and meeting with the photographers and meticulously editing their portfolios to produce this unique book. "While the photographers come from all walks of life, they share a common passion to visually capture their city like never before," said Landers. "They demonstrate incredible resolve and discipline – shooting tirelessly day and night, in rain and snow, to get 'the shot'– resulting in images and perspectives that few Chicagoans experience," added Maday.
After working in advertising and design for over two decades, Sam Landers returned to publishing by co-founding Trope Reader with Tom Maday in 2016. Previously, he was the CEO of Blast Radius, part of the WPP Wunderman Global Network, which he joined in 2008 when the branding and digital agency he founded, Designkitchen was acquired by WPP. During his time there, Sam worked in Chicago, New York and San Francisco ~ and traveled frequently throughout Europe, Asia and Africa (always taking his notebook & camera).