Misfit
Spiral-Bound | November 29, 2022
Elle Kennedy
Rebinding by Spiralverse™
★★★☆☆+ from 1,001 to 10,000 ratings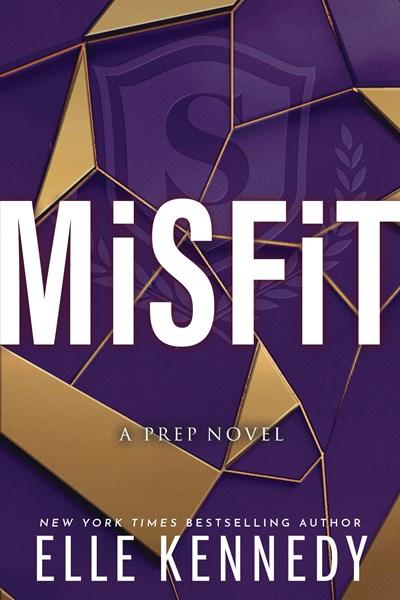 This brand new series from sensation Elle Kennedy introduces Sandover Prep, the place where the elite send their delinquent boys. When a new senior shows up against his will, he's surprised to not only find unexpected friends, but the one girl he's supposed to stay away from—the headmaster's daughter.
Welcome to Sandover Prep, where the delinquents roam…and you can't trust a soul.
Finding out your mom is marrying some rich guy you've never met is enough to make any eighteen-year-old's head spin. And for RJ Shaw, it gets worse: he's being sent to Sandover Prep for senior year. If there's one place a misfit hacker like RJ doesn't belong, it's an ivy-covered all-boys boarding school for rich delinquents. There's no point trying to get along with anyone. That is, until he meets Sloane Tresscott in the woods on the outskirts of campus. Gorgeous and sharp-tongued, Sloane is pure temptation.
Except Sloane is the one girl he's forbidden from touching.
The headmaster's daughter.
Good thing RJ doesn't believe in rules. Sure, Sloane insists she's swearing off boys this year, but he wants her bad, and he's going to win her over if it kills him—unless her ex-boyfriend, the ruling king of Sandover, kills him first. Luckily, RJ's unwittingly made some friends. His new stepbrother Fenn, a pretty boy with a self-destructive streak. Lawson, self-proclaimed agent of chaos. And Silas, the All-American good guy who can't actually be as nice as he seems.
If RJ wants to survive prep school and win Sloane's heart, he'll need to adapt—and fast.
A New York Times, USA Today and Wall Street Journal bestselling author, ELLE KENNEDY grew up in the suburbs of Toronto, Ontario, and holds a B.A. in English from York University. From an early age, she knew she wanted to be a writer, and actively began pursuing that dream when she was a teenager.
Elle writes new adult romance, romantic suspense, and erotic contemporary romance. She loves strong heroines and sexy alpha heroes, and just enough heat, humor, and danger to keep things interesting! Find out more about her at www.ellekennedy.com