Engineering in Plain Sight: An Illustrated Field Guide to the Constructed Environment
Spiral-Bound | November 1, 2022
Grady Hillhouse
Rebinding by Spiralverse™
★★★★☆+ from 101 to 500 ratings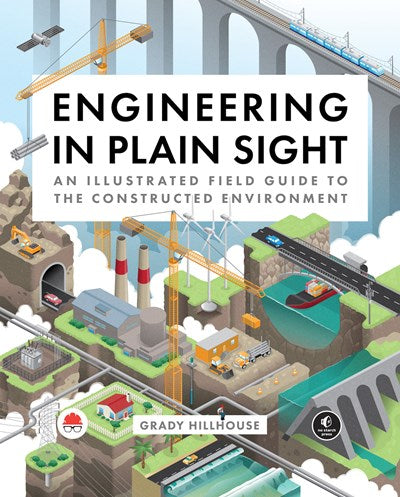 Engineering in Plain Sight is a beautifully illustrated field guide with accessible explanations to nearly every part of the constructed world around us.

Author Grady Hillhouse is the creator behind the popular YouTube channel Practical Engineering (over 3 million subscribers!) and this book is essentially 50 new episodes crammed between two covers.

Engineering in Plain Sight extends the field guide genre from natural phenomena to human-made structures, making them approachable and understandable to non-engineers. It transforms readers' perspectives of the built environment, converting the act of looking at infrastructure from a mundane inevitability into an everyday diversion and joy.

Each section of this accessible, informative book features colorful illustrations revealing the fascinating details of how the human-made world works. An ideal road trip companion, this book offers a fresh perspective on the parts of the environment that often blend into the background. Readers will learn to identify characteristics of the electrical grid, roadways, railways, bridges, tunnels, waterways, and more. Engineering in Plain Sight inspires curiosity, interest, and engagement in how the infrastructure around us is designed and constructed.
"An outstanding resource on a wide range of civil engineering subjects for all readers. Wonderful for browsing, reading, or researching."
—Rob Tench, Library Journal

"[Engineering In Plain Sight] is a fun, informative book that helps educate on the world around us."
—Geek_Dude, GeekTechStuff

"A plain explanation of every day engineering . . . [with] enough detail to satisfy even a lot of detailed questions about infrastructure."
—Lee Teschler, Design World Online

"Grady is the perfect person to explain engineering to us . . . he's a brilliant storyteller who can translate that knowledge into engaging tales that even the technically-challenged among us can dig into. His book [Engineering in Plain Sight] is the perfect extension of this unique skill set. By taking a concept usually applied to the natural world - a field guide! - and applying it to the, um, non-natural one, he's helped me understand for the first time basic but important things ... like how a cell tower actually works."
—David Goldenberg, MinuteEarth

"Highly readable and illustrated with plenty of diagrams, making the material accessible to non-engineers . . . it would serve very well as a reference book for classrooms and the school library."
—Terry Freedman, ICT & Computing in Education

"Perfect for those with a curious mind and restless imagination."
—E.D. Corbeels, Purdue Reviewer

"Written for anybody that just wants to learn about the world around them . . . I highly recommend it."
—Isaac Oakeson, Civil Engineering Academy

"This is a 'Bob the Builder' guide for young adults and older who are curious about common miracles of engineering. From asphalt to voltage regulators, they'll never look at the world the same."
—The Austin Chronicle
Grady Hillhouse is a civil engineer and science communicator widely known for his educational video series Practical Engineering, currently one of the largest engineering channels on YouTube with over 3 million subscribers and millions of views each month. His videos, which focus on infrastructure and the human-made environment, have garnered media attention from around the world and been featured on both the Science Channel and Discovery Channel in addition to many other publications. Before producing videos full time, Hillhouse spent nearly ten years as an engineering consultant, working on a wide variety of infrastructure projects with a focus on dams and hydraulic structures. He holds degrees from Texas State University and Texas A&M University.

Author Residence: San Antonio, Texas

Author Hometown: Panhandle, Texas