Let's Buy the Land and Cultivate It in a Different World (Manga) Vol. 3
Spiral-Bound | April 4, 2023
Rokujuuyon Okazawa, Jun Sasameyuki (Illustrated by), Yuichi Murakami (Contributions by)
Rebinding by Spiralverse™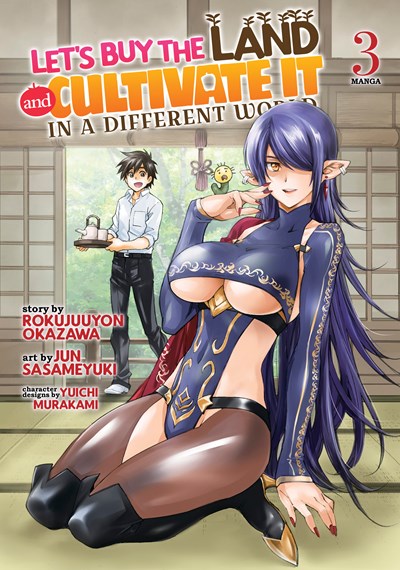 I HEARD THAT YOU LIKE THE BAD GIRLS, HONEY, IS THAT TRUE?

Astares of Chaos, a former member of the Four Heavenly Kings of the Demon Lord's army, has been ousted due to her embarrassing defeat to Kidan. Or has she? When the Demon Lord, Zedan, finds out that she's been kicked out, he immediately travels to challenge Kidan for the right to take her back. But Plattie has a better idea! The same one that made her so happy: If you can't beat 'em, marry 'em!

Series Overview: Norio, a corporate drone in modern Japan, is summoned to a fantasy world to fight evil! But it turns out that the magical ability he got doesn't work?! Thankfully, he has a plan B. Ask for a plot of land to cultivate a farm! To his surprise, that supposedly useless magic ability turbo charges his tools, allowing him to craft with wood like a master and plant vast fields of crops. After fishing up a mermaid wife, charming a lich, and tempting a young dragon over to his side with home cooking, there's nothing our hero can't do!
Rokujuuyon Okazawa is a writer in Japan best known for the light novel and manga series Let's Buy the Land and Cultivate It in a Different World.

Author Residence: Japan

Jun Sasameyuki is an artist in Japan best known for the manga series Let's Buy the Land and Cultivate It in a Different World.

Yuichi Murakami is a prolific illustrator in Japan, best known for illustrating light novel series like Let's Buy the Land and Cultivate It in a Different World.

Illustrator Residence:Japan / Japan