Sonic the Hedgehog, Vol. 9: Chao Races & Badnik Bases
Spiral-Bound | January 11, 2022
Evan Stanley, Adam Bryce Thomas (Illustrated by)
Rebinding by Spiralverse™
★★★★☆+ from 101 to 500 ratings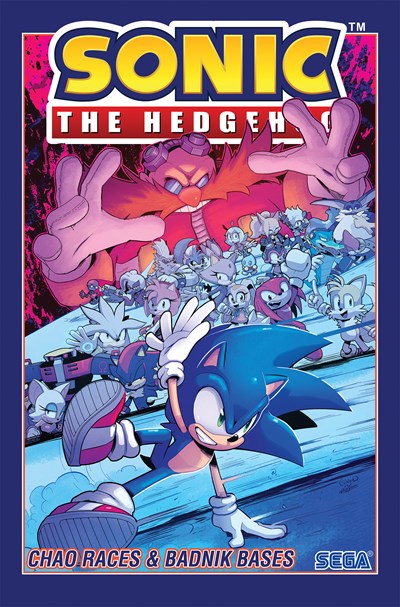 Fan-favorite artist Evan Stanley takes over as writer! A new storyline begins, perfect for new readers, as Team Sonic races to help a friend in need!

Hold on to your chili dogs, Sonic fans! The Metal Virus is gone, but things aren't back to normal. Omega is damaged, and his allies turn to Team Sonic for help. The only way to rebuild him is to trade parts with a mysterious champion Chao racer, so it's off to the races for Cream, Cheese, Amy, and Rouge! They'll have to keep up their winning streak or surrender Cheese to Clutch's evil... clutches!

Meanwhile, Sonic and Tails are being watched by a mysterious figure in Dr. Eggman's seemingly abandoned base, but when Rouge's team calls for help, will this shadowy character prove friend or foe? Please keep your arms and legs inside the ride at all times, folks, this is going to be a bumpy one!

Collects IDW's Sonic The Hedgehog issues #33-36.
Evan Stanley grew up homeschooled in Santa Cruz, California, exploring the woods near her house and drawing whenever she could. At 13, she got hooked on the Sonic the Hedgehog game series, which inspired her to start creating her own comic books... and she hasn't stopped! Evan began working professionally in comics at 18, while pursuing a BFA in 3D character animation. After graduation, she worked at Sony Playstation as an animator before settling in to doing comics full-time. She currently lives with her partner in San Mateo, California; when she's not working, you can find her hiking, reading, gaming, or hunting ghosts.