Hooray! It's Your Birthday!: Finger Puppet Book
Spiral-Bound |
Brick Puffinton, Clementine Derodit (Illustrated by), Cottage Door Press (Edited by)
Rebinding by Spiralverse™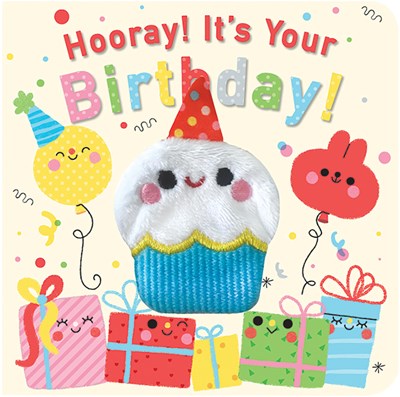 Hooray! Today is your special day! Follow an adorable little frosted cupcake through a spectacular birthday party celebration filled with confetti, cake, presents, sprinkles, singing, silly party hats, balloons, and tons of giggling fun. This sweet rhyming story features a soft plush finger puppet toy built into the book encouraging interactive play, hand-eye coordination, sensory and language development. A must for baby and toddler birthday celebrations!
Collect more little finger puppet board books from Cottage Door Press!
The adorable built-in finger-puppet encourages interactive finger play, which helps develop little muscles and build finger strength, improving coordination and fine motor skills. 
Soft plush and a rhyming story combine to provide both tactile and verbal learning opportunities to babies and toddlers.
Thick board pages perfect for little hands to actively participate in storytime.
Lively illustrations and a plush finger puppet help keep little girls and boys engaged throughout.
Babies and toddlers learn best when they are playing, especially when their grown-ups are in on the fun.
The perfect alternative to a greeting card, especially for a first birthday!
Brick Puffinton is a pen name for the creative team at Cottage Door Press. We use a name like this when we work together on a story. We choose a name that stands for "red bird," which is our cheerful little mascot.