Piece of Cake Easy Crosswords
Spiral-Bound |
Parragon Books (Edited by), Emma Trithart
Rebinding by Spiralverse™
★★★★☆+ from Up to 30 ratings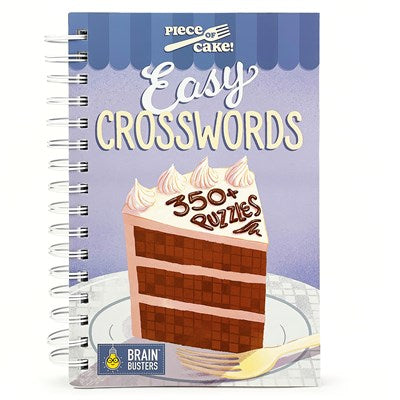 Everyone loves a crossword! With over 350 exciting puzzles, The Crossword Book provides hours of entertainment. This collection includes puzzles you will be able to finish in a single sitting, by tapping your knowledge on a broad range of subjects from notable quotes and Broadway plays, to animal characteristics and geography.
Grab your favorite pencil, curl up, and start solving!
OVER 350 PUZZLES & SOLUTIONS: Most puzzles contain over 50 words to solve for! Hours of fun and entertainment to enjoy!
EXERCISE YOUR BRAIN: Test your knowledge on a broad range of subjects and give your brain some exercise! Of course, you know what is a Fairy Godmother's stick, a Mexican Donkey or a Sugar Source? Test if you know a Great Lake near Buffalo, a Donkey's kin or the Hawkeye State!
LAY FLAT: Spiral-bound lays flat for ease of use at home or on the go. Whether your drinking your morning coffee, riding on the train or relaxing on vacation this crossword puzzle book can go with you.
EASY TO INTERMEDIATE: Easy to intermediate level puzzles. Great for beginners to more experienced crossword puzzle enthusiasts.
MAKES A GREAT GIFT: For the crossword puzzle lover, this book makes a great gift for any occasion! Birthday, stocking stuffers, road trip or more, everyone will love it!
PARRAGON PUZZLE BOOK COLLECTION: Look for additional puzzle books from Parragon for all types of puzzles including crosswords, word searches, sudoku and more!
The Parragon name means quality, entertainment, and value and has been at the forefront of publishing for nearly 40 years. Going forward as an imprint of Cottage Door Press, the Parragon brand includes books that are interesting, entertaining, and affordable. The Parragon tradition continues....