Zoo: Chunky Peek a Flap Board Book
Spiral-Bound |
Jaye Garnett, Kasia Nowowiejska (Illustrated by), Cottage Door Press (Edited by)
Rebinding by Spiralverse™
★★★★☆+ from 101 to 500 ratings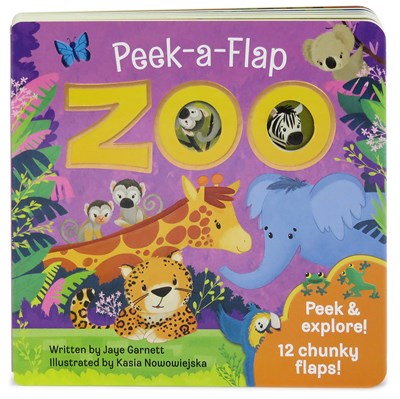 Peek-a-ZOO! Meet all the animals found at the zoo in this interactive Peek-a-Flap sturdy board book. Little ones will love exploring every page filled with fun facts, new vocabulary words, and surprises found under sturdy lift-a-flaps while learning all about wild animals and their habitats along the way! Meet lions, zebras, elephants, cheetahs, sloths, monkeys, koalas and more while touring the zoo. Durable pages and chunky flaps are perfect for little exploring hands, which also help strengthen hand-eye coordination and fine motor skills. A lively, educational animal introduction designed to entertain and engage curious little readers. A must for little animal lovers!
Explore more peek a flap board books and lift the flap board books for babies and toddlers from Cottage Door Press!
Sturdy, thick board pages and durable flaps designed to withstand traditional wear and tear for curious little infants and toddlers.
Lifting the interactive flaps encourages sensory exploration and helps support the development of fine motor skills and hand-eye coordination in developing children.
Packed with new words and peek-a-boo surprises.
Bright, cheerful illustrations and interesting facts in these sensory lift-a-flap books for babies and preschoolers keep them entertained and engaged.
Perfect gift for birthdays, holidays, and curious toddlers! Collect all the books in the Peek-a-Flap series.
Jaye Garnett is a pen name for the creative team at Cottage Door Press. We use a name like this when we work together on a story. We choose a name that stands for "red bird," which is our cheerful little mascot.