Bedtime Songs
Spiral-Bound |
Rose Nestling, Sanja Rescek (Illustrated by)
Rebinding by Spiralverse™
★★★★☆+ from 31 to 100 ratings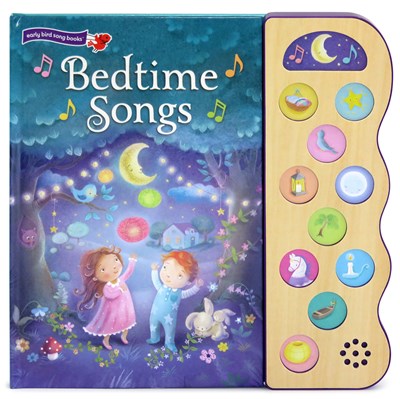 Toddlers and preschoolers can sing along with the classic bedtime melodies in this charming songbook. Featuring a wooden inlay and sturdy construction, giving it a vintage feel, this book is sure to delight while teaching an appreciation for both music and together time. Perfect for little ones (and their grown-ups) to sing along as part of a nightly bedtime routine. Bedtime Songs is sure to be a family favorite.
Singing is learning! Singing develops listening and memory skills important to early literacy.
Toddlers and young children will enjoy pressing the buttons and singing along for an interactive musical experience.
Sturdy board pages for your baby's exploring hands to read over and over again.
Inspires musical expression and encourages movement with rhythm.
Please note that audio buttons play melodies only, without a singing voice.
Cottage Door Press is an independent publisher of high-quality children's books. We believe that every child deserves an excellent first book experience--beginning on the day they're born.
Reading is learning is our driving philosophy, and we strive to help parents understand why reading aloud from birth is so important. We offer a simple development-based guide to help them on their journey.

Rose Nestling is a pen name for the creative team at Cottage Door Press. We use a name like this when we work together on a story. We choose a name that stands for "red bird," which is our cheerful little mascot.