The Death Doula's Guide to Living Fully and Dying Prepared: An Essential Workbook to Help You Reflect Back, Plan Ahead, and Find Peace on Your Journey
Spiral-Bound |
Francesca Lynn Arnoldy
Rebinding by Spiralverse™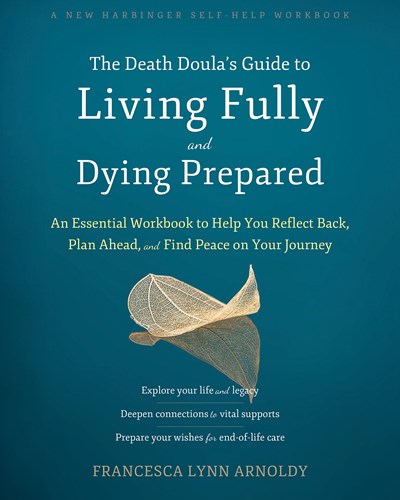 Death doulas support people practically, emotionally, and spiritually to prepare for death. This workbook brings the first-hand expertise of a death doula to those navigating the end of life—offering gentle and practical ways to explore their values, process their legacy, build connection with loved ones, prepare a comfortable death, and create a meaningful memorial.
Find practical and emotional support for your journey with this immersive workbook.
If you are preparing for the end of life—or simply looking to bring more meaning to the here and now—The Death Doula's Guide to Living Fully and Dying Prepared imparts valuable insight to nurture clarity and your internal strength on your journey. Infused with essential doula approaches, this workbook is a first-of-its-kind publication that invites you to process your life and legacy, create remembrance projects, build connections to vital supports, and draft informative wishes and plans for your last chapter.
Replete with centering techniques and thought-provoking prompts, this comprehensive workbook is a welcome invitation for anyone seeking a more intentional approach to living and dying. It provides a practical template for end-of-life planning focused on designing comforting experiences that feel personally affirming—with sensitivity to all belief systems, cultures, identities, and histories of lived experience. The practices within chapters promote death literacy, and present steps to create your custom death journal.
Completing this workbook is a brave act of healthy preparedness, as it breaks down a complex and often overwhelming topic into manageable tasks. You will tap into deep truths and poignant memories as you work through the exercises, often feeling lighter and less burdened upon their completion. Most importantly, you'll find your best way to live fully and die prepared, by clarifying the fundamental ideals, priorities, and requests you want honored.
"As I was savoring every word, I kept thinking how I wish I had this when I was a young adult, and I wonder, if someone had helped me dig deep into my own curiosities back then, would I have lived my life more fully? This is a brilliant guide, and a lovely opportunity to explore what matters most—allowing you to choreograph a life, and a death, on your terms."
—Gabrielle Elise Jimenez, hospice nurse; end-of-life doula; conscious dying educator; and author of four books: Soft Landing, The Hospice Heart, At the Bedside, and What Would Gabby Say? -Gabrielle Elise Jimenez
Francesca Lynn Arnoldy is a community doula and death literacy advocate. She authored Cultivating the Doula Heart, and she is a researcher with the Vermont Conversation Lab. Francesca was the original course developer of the University of Vermont's End-of-Life Doula Professional Certificate Programs. She regularly presents on life-and-death topics with hopes of encouraging people to support one another through times of intensity.