The Microstress Effect: How Little Things Pile Up and Create Big Problems--and What to Do about It
Spiral-Bound | April 18, 2023
Rob Cross, Karen Dillon
Rebinding by Spiralverse™
★★★☆☆+ from Up to 30 ratings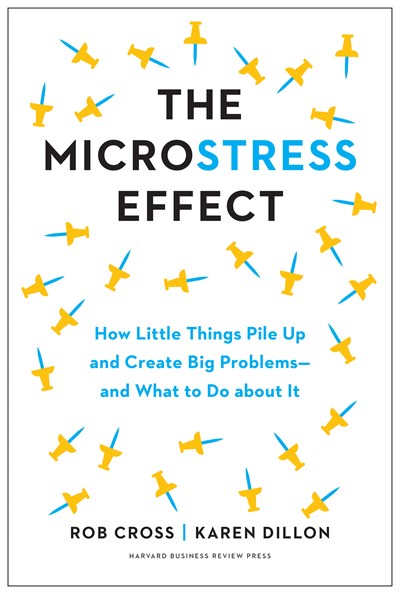 How a million little things are dragging you down, and what to do about it.
There's a force we encounter every day that we aren't aware of—and it threatens to derail otherwise promising careers and lives: microstress.
This hidden epidemic of small moments of stress has insidiously infiltrated both our work and our personal lives with invisible but devastating effects. Microstress doesn't trigger the normal stress response in our brains to help us deal with it. Instead, it embeds itself in our minds and accumulates daily, one microstress on top of the other. The long-term impact can be debilitating. Unregistered microstress weighs us down, damages our physical and emotional health, and contributes to a decline in our well-being. What's more, microstress is baked into our lives. The source is seldom a classic antagonist, such as a demanding client or a jerk boss. Instead, it comes from the people with whom we are closest: our friends, family, and colleagues.
The good news is that once you understand microstress, you can fight back. Drawing on fresh research, Rob Cross and Karen Dillon explain the science behind the phenomenon. They also share the secrets of a small set of people who've endured their share of microstress but have still managed to cultivate relationships that enable them to thrive both at work and in life. Compelling interviews with these high achievers bring to life best practices that show you how to build resilience against microstress and ultimately how to find purpose—purpose that helps you break free from this quietly invasive force that's stealing your life.
As seen in the Wall Street Journal, Fortune, Quartz, Fast Company, and more.
Named one of the "Best summer books of 2023" by the Financial Times
"Through their research, which involved hundreds of interviews with high performers across a multitude of companies [Cross and Dillon offer] strategies to make small adjustments that reduce the impact of microstress—in particular, by strengthening connections with others." — Financial Times
"The Microstress Effect is a great read for anyone, but especially for the person who wants to understand where their mental energy is going and how best to rebuild and protect it." — Porchlight Books
"… Cross and Dillon bring a fresh perspective to navigating the small pressures of the day…" "This book empowers you to take back control of your life by eliminating microstresses and replacing them with micromoments of meaningful connections with others that will give you a rich, multidimensional life." — TD magazine (Association for Talent Development)
"In the authors' words, 'to enjoy overall well-being, you must develop strategies not only to combat stress but also to help you live the life you want to live through resilience, physical health, and purpose.' This reminder, for me, was the most powerful message I got from this very useful book." — Psychology Today
Advance Praise for The Microstress Effect:
"The Microstress Effect is a revelation. Cross and Dillon offer practical and sensible strategies for regaining control of your time and your well-being, drawn from years of academic research. If small hassles and burdens are infecting your life, this remarkable book is the antidote." — Daniel H. Pink, #1 New York Times bestselling author, The Power of Regret, Drive, and When
"Cross and Dillon provide fresh insight into one of the most important topics of our time—why so many high performers are at risk of burnout in both their careers and their lives. Based on solid academic research, The Microstress Effect offers not only hope but also practical guidance for fending off microstress and living a rich, fulfilling life." — Susan David, #1 Wall Street Journal bestselling author, Emotional Agility
"This book should be required reading for corporate leaders and individuals alike! I will be giving it to the people I care most about." — Jacqueline Williams-Roll, Chief Human Resources Officer, General Mills
"I read this brilliant book and said 'Yup, yup, yup' over and over again. Cross and Dillon put the experiences of high performers into words. Microstresses exist and cause inordinate social, emotional, and physical risk. Following their astute insights, readers will recognize their own stresses and how to overcome them. Nothing could be more meaningful in this emotionally demanding time." — Dave Ulrich, Rensis Likert Collegiate Professor of Business Administration, Ross School of Business, University of Michigan; Partner, The RBL Group
"Timely, credible, and timeless, with more practical tips for lowering my stress levels than anything I've read in years, The Microstress Effect is a game changer. I read it in one sitting and need the people around me to read it—now!" — Tom Rath, bestselling author, StrengthsFinder 2.0 and Life's Great Question
Rob Cross is the Edward A. Madden Professor of Global Leadership at Babson College, cofounder and director of the Connected Commons, and the author of Beyond Collaboration Overload.
Karen Dillon is a contributing editor at Harvard Business Review, editorial director at BanyanGlobal Family Business Advisors, and the coauthor of three books with Clayton Christensen, including the New York Times bestseller, How Will You Measure Your Life?
Connect with Rob Cross and Karen Dillon on Twitter at @KarDillon and @RobCrossNetwork and on Connectedcommons.com, Robcross.com, and karendillon.net.