Rocks & Minerals Backyard Workbook: Hands-on Projects, Quizzes, and Activities for Kids
Spiral-Bound | May 4, 2021
Dan R. Lynch
Rebinding by Spiralverse™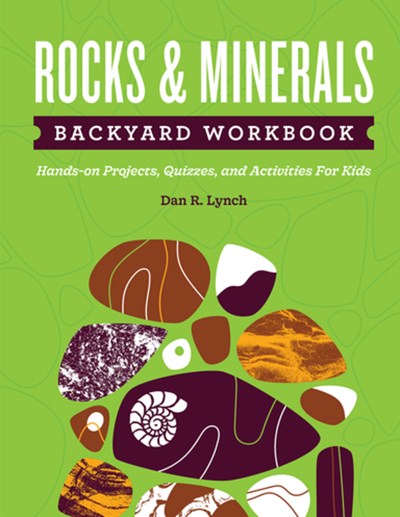 This interactive workbook introduces children to rocks and minerals through fun activities and hands-on science projects.
Introduce children to geology through fun activities and hands-on science projects.
From beaches to gravel roads, from prairieland to rugged terrain, rocks and minerals are all around us. They provide incredible opportunities for getting outside and discovering nature. There are so many kinds to see and appreciate—even in your backyard or at a nearby park.
Teach your children to love and protect the great outdoors. This workbook by Dan R. Lynch features more than 20 simple, fun introductions to a variety of rocks and minerals, including granite, sandstone, gemstones, and more. Plus, over a dozen activities help kids to make hypotheses, experiment, and observe. The 19 hands-on science projects—such as starting a rock collection and testing the hardness of minerals—put students in control of their own learning!
You never know what your children will uncover in their outdoor classroom. Every day is a little treasure hunt. If they keep good records and share what they find, their observations can even help scientists learn more about nature. So get the Rocks & Minerals Workbook, and get started on a lifetime of discovery.
Dan R. Lynch has a degree in graphic design with emphasis on photography from the University of Minnesota Duluth. But before his love of art and writing came a passion for rocks and minerals, developed during his lifetime growing up in his parents' rock shop in Two Harbors, Minnesota. Combining the two aspects of his life seemed a natural choice, and he enjoys researching, writing about, and taking photographs of rocks and minerals. Working with his father, Bob Lynch, a respected veteran of Lake Superior's agate-collecting community, Dan spearheads their series of rock and mineral field guides—definitive guidebooks that help amateurs "decode" the complexities of geology and mineralogy. He also takes special care to ensure that his photographs complement the text and always represent each rock or mineral exactly as it appears in person. He currently lives in Madison, Wisconsin, with his wife, Julie, where he works as a writer and photographer.