Sticker by Number Animals: Sticker by Number
Spiral-Bound |
Parragon Books (Edited by)
Rebinding by Spiralverse™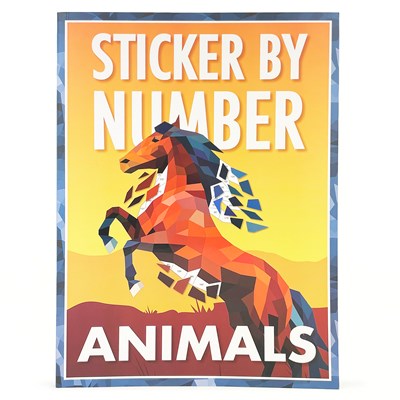 Sticker By Number Animals - Get lost in nature with these 12 sensational sticker puzzles. From an elephant in the wild to horse running free, match the numbers on the images with those on the sticker sheets and create your masterpieces. You'll love this relaxing activity!
12 Animal Scenes: From cats, tigers, and elephants to butterflies, jellyfish, and hummingbirds, create beautiful animal scenes.
Relax and Free Your Imagination: Art tells our story, and that of the world around us. It gives us a chance to express ourselves and our emotions. But most importantly, it allows us to pause, observe, and appreciate the beauty of nature.
Challenging and Calming: Allow yourself to focus solely on the task at hand, and reap the benefits of this meditative experience. Unwind and immerse yourself in these rich images, bringing some calm to your day.
Perfect Gift: A wonderful gift for the teen, adult, or elderly person in your life!
The Parragon name means quality, entertainment, and value and has been at the forefront of publishing for nearly 40 years. Going forward as an imprint of Cottage Door Press, the Parragon brand includes books that are interesting, entertaining, and affordable. The Parragon tradition continues....