Puppy Love
Spiral-Bound |
Cottage Door Press (Edited by), Sydney Hanson (Illustrated by), Brick Puffinton
Rebinding by Spiralverse™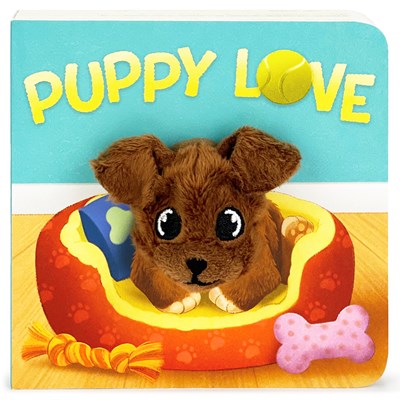 Celebrate all the fun things that come with welcoming a new puppy into the family! Welcome dogs or puppies with hugs, special names, and adorable toys. Practice basic puppy training by saying "Sit" and giving the puppet a scratch behind the ear or a kiss on the head. This sweet rhyming story features an adorable finger puppet built into the book. Wiggle or snuggle with the soft, plush puppet to make the story come alive.
Collect more little finger puppet board books from Cottage Door Press!
The adorable built-in finger-puppet encourages interactive finger play, which helps develop little muscles and build finger strength, improving coordination and fine motor skills. 
Soft plush and a rhyming story combine to provide both tactile and verbal learning opportunities to babies and toddlers.
Thick board pages perfect for little hands to actively participate in storytime.
Lively illustrations and a plush finger puppet help keep little girls and boys engaged throughout.
Babies and toddlers learn best when they are playing, especially when their grown-ups are in on the fun.
Cottage Door Press is an independent publisher of high-quality children's books. Our books are designed to spark curiosity in the littlest readers and fan the flames of lifelong learning. We understand children deserve our respect. That's why we always select artwork and stories that encourage caregivers to "read up" to their little ones--exploring interests together, learning together, and giving their young minds room to grow.
We also believe in creating stories that reflect the boundless possibilities of all children. We hope to create books that inspire little ones to connect, encourage them to dream, give them cause to celebrate, and allow them to see themselves beautifully reflected in the stories they read.
To bring these beautiful stories to life, our diverse and talented staff collaborates with authors and illustrators from all backgrounds and nationalities. We have also partnered with multicultural brands and literacy organizations to make sure our books reflect and reach as many little ones as possible.