Macaron School: Mastering the World's Most Perfect Cookie with 50 Delicious Recipes
Spiral-Bound | March 8, 2022
Camila Hurst
Rebinding by Spiralverse™
★★★★☆+ from Up to 30 ratings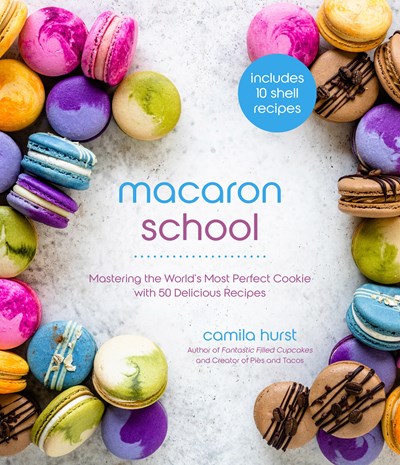 Perfect macarons are possible for every home baker with this approachable guide that includes fun, flavorful recipes alongside tips, tricks and troubleshooting help from a master macaron maker.
Unlock the Secrets of Macarons, One Scrumptious Recipe at a Time

From macaron master Camila Hurst comes your ultimate resource for making perfect macarons. Whether you've already tried making this delicious but oh-so tricky treat or are getting started for the first time, let Camila be your personal guide through every step of the process. You'll learn the fundamentals with an in-depth tutorial for perfect plain shells, packed with step-by-step photos and all of Camila's best tips and tricks gathered from her experience baking thousands of macarons over the years. There are even sections dedicated to shell decorating, sourcing the right ingredients and tools, as well as troubleshooting common problems.

Practice your newfound skills across 10 shell flavors and 40 drool-worthy recipes for fillings, and soon you'll be whipping up gorgeous macarons that will wow everyone who tries them! Discover awe-inspiring creations such as:

• Fleur de Sel Caramel Macarons
• Snickerdoodle Macarons
• Birthday Cake Macarons
• Pistachio Macarons
• Black Sesame Matcha Macarons
• Chili Hot Chocolate Macarons

With clear instructions, a treasure trove of knowledge and mouthwatering recipes, Macaron School will put you on the path to macaron mastery.