Moth to a Flame: Tenth Anniversary Edition
Spiral-Bound | February 25, 2020
Ashley Antoinette
Rebinding by Spiralverse™
★★★★☆+ from 1,001 to 10,000 ratings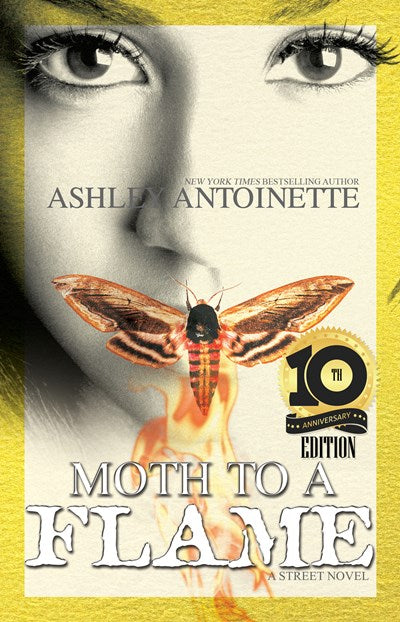 In the little city of Flint, MI, the good die young and the people left standing are the grimiest of characters. With reign over the city's drug trade, Benjamin Atkins made sure that his precious daughter, Raven, was secluded from the grit that the city had to offer. But when Raven's young heart gets claimed by Mizan, a stick-up kid in search of a come-up, there's nothing Benjamin can do about losing her to the streets. She chooses love over loyalty and runs off with Mizan, but her new role as wifey soon proves to be more than she can handle.

Puppy love always feels right, but things turn stale, and she soon finds that everyone she loves has disappeared. All she has is Mizan, but when hugs and kisses turn to bloody lips and black eyes, she realizes that Mizan is not who she thought he was.

Raven becomes desperate for a way out, but this time, Daddy can't save her. Every time she finds the courage to leave, fear convinces her to stay. Like a moth to a flame, Raven is drawn to Mizan, even though she knows he'll be the death of her. When the hood life she chose becomes unbearable and the only way out is in a coffin, what will she do?
Ashley Antoinette is a part of the bestselling duo responsible for the Ashley & JaQuavis novels. This is her second solo novel. Ashley resides in Flint, MI, where she is working on her next novel.