The 7 Habits of Highly Effective People: Guided Journal : Collector's Edition
Spiral-Bound | January 11, 2022
Stephen R. Covey, Sean Covey
Rebinding by Spiralverse™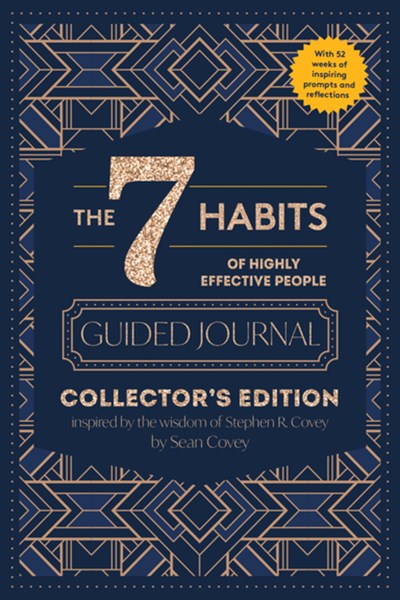 A guided journal companion to the card deck of the bestselling The 7 Habits of Highly Effective People, with over 1 million copies sold.
A Personal Growth Journal to Build Effective Habits

"If you follow this simple process, I promise that you will see positive changes in your relationships and find a higher level of personal satisfaction in your life." ―Sean Covey, author of The 7 Habits of Highly Effective Teens

#1 New Release in Strategic Business Planning

How do you manage your time and stay organized? Whether you're struggling to stay motivated or are looking for new high-performance habits, The 7 Habits of Highly Effective People Guided Journal offers journal prompts, worksheets, and exercises to help you accomplish all your short and long term goals.

Goal setting just got easier. When The 7 Habits of Highly Effective People was released as a card deck, audiences approached Stephen R. Covey's time-tested principles in a whole new way. Now, this companion journal gives readers a chance to craft inspiration into action. Its concise format is accessible and easy to stick with. Each habit is broken down into a weekly format inspiring both beginners and seasoned 7 Habits readers to get motivated, build confidence, and boost inspiration and personal growth.

Cultivate success, skill, and self-growth. Featuring thought-provoking prompts, worksheets, and self-development quotes that teach you how to achieve your goals, this is the ultimate guided self-growth journal.

Inside, find:

Journaling prompts for self-discovery and to build confidence and self esteem
Worksheets for strategic time management and deeper learning of the 7 Habits
Self-motivation tips, exercises, and challenges for optimal goal achievement
If you enjoyed books like The 7 Habits of Highly Effective People, The 52 Lists Project, or The High Performance Planner, you'll love The 7 Habits of Highly Effective People Guided Journal.
Sean Covey is a business executive, author, speaker, and innovator. He is President of FranklinCovey Education and is devoted to transforming education throughout the world through a principle-centered leadership approach. Sean oversees FranklinCovey's whole school transformation process, called Leader in Me, which is now in over 4,000 schools and 50 countries.
Sean is a New York Times best selling author and has written several books, including the Wall Street Journal #1 Business Bestseller, The 4 Disciplines of Execution, The 6 Most Important Decisions You'll Ever Make, The 7 Habits of Happy Kids, and The 7 Habits of Highly Effective Teens, which has been translated into 20 languages and sold over 8 million copies worldwide. He is a versatile keynoter who regularly speaks to kids and adults within schools and organizations and has appeared on numerous radio and TV shows.
Sean graduated with honors from BYU with a Bachelor's degree in English and earned his MBA from Harvard Business School. As the starting quarterback of BYU, he led his team to two bowl games and was twice selected as the ESPN Most Valuable Player of the Game.
Born in Belfast Ireland, Sean's favorite activities include going to movies, working out, hanging out with his kids, riding his motorcycle, producing short films, and writing books. Sean and his wife Rebecca live with their children in the Rocky Mountains.