Growing Flowers: Everything You Need to Know About Planting, Tending, Harvesting and Arranging Beautiful Blooms (Flower Gardening for Beginners)
Spiral-Bound | May 11, 2021
Niki Irving
Rebinding by Spiralverse™
★★★★☆+ from 101 to 500 ratings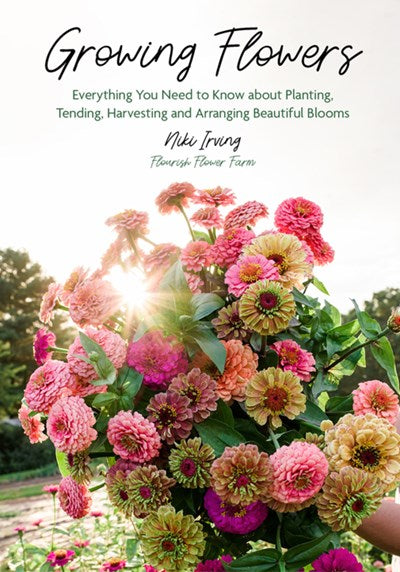 This book will feature fun, simple and engaging gardening know-how on growing, harvesting and arranging seasonal flowers and vegetables. It will include chapters on getting started, tools of the trade, getting down and dirty with dirt, growing flowers, harvesting flowers, arranging flowers, seasonal rotation, starting from seeds and/or seedlings and keeping it organic.
Master Flower Gardening and Learn to Grow Flowers for All Seasons
"Anyone wanting to get started with a flower garden will find plenty of expert guidance here." ―Publishers Weekly
#1 Best Seller in Annual Flowers Gardening, Bulb Flower Gardening, and Perennial Gardening
Master the art of cultivating cut flowers, from seed to stunning arrangements, with this indispensable guide for gardening novices and pros alike.
Create botanical beauty. Niki Irving's Growing Flowers whisks you away to the serene mountains of Asheville, NC, where her boutique flower farm thrives. Learn to grow florets and cut flowers with the same sustainable, natural practices Niki employs on her mountain-fresh farm.
Boost your horticultural skills. This garden journal not only introduces you to the pleasures of growing a cutting garden but also guides you to arrange your flowers into simple-yet-gorgeous bouquets. Immerse yourself in the enchanting world of flower farming and discover techniques using not just blooms and greenery, but even artichokes, vines, and berries.
Inside, you'll find:
Practical guidance on organic flower gardening, from selecting the right seeds and seedlings to mastering seasonal rotation
Insightful techniques for arranging cut flowers
Tips and tricks from Niki Irving's successful boutique flower farm for cultivating your own cutting garden
Engaging photographic content that transforms the book into a delightful coffee table addition
Growing Flowers is a wonderful addition to any collection of garden books. If you're looking for gardening gifts for gardeners or enjoy flowering plant books and flower books like Floret Farms Cut Flower Garden book, Floret Farm's A Year in Flowers, or The Flower Gardener's Bible, you'll love Niki Irving's Growing Flowers.
Niki Irving is a co-owner of Flourish Flower Farm. After years of working in education and outdoor education, she finally turned the dream of becoming a Farmer-Florist into reality. As the daughter of a landscaper and tree farmer, you could say that her love of plants was inevitable. Niki loves growing, nurturing and creating beauty. She currently resides in Asheville, North Carolina.