Friendship Isn't a Big Thing, It's a Million Little Things: The Art of Female Friendship (Gift for Female Friends, BFF Quotes)
Spiral-Bound | September 15, 2019
Becca Anderson
Rebinding by Spiralverse™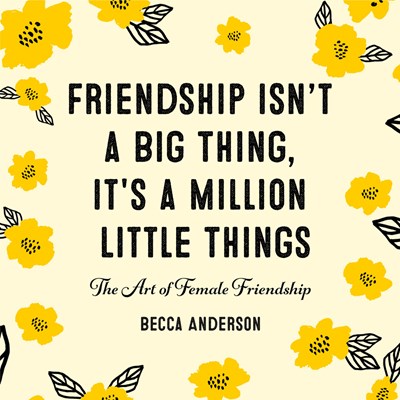 Female Friendships are a Million Little Things!
"Becca Anderson shares the elements of female empowerment with her readers so that they can see the power of connection between women." ―Nerdy Girl Express
Unique connections can be found in recent and long-term friendships! This is the perfect bff book for women and soul sisters!
Be inspired by iconic female friends. The bond formed among soul sisters is like no other, celebrate your girlfriends with this daily affirmations book for best friends. Fall into the short stories of iconic friendships that will inspire your own connections.
Enjoy cute friendship quotes from icons. Find inspiration from these friendship perseverance quotes and positive vibes quotes that remind you how valuable your gal pals really are; there are bff quotes for every member of your whole crew!
Inside you'll find:
Daily reasons to celebrate the unique love female friends bring
Inspirational tools on how to build and keep your close connections
Cute friendship quotes to reshape your mindset on your female friends
If you liked Hey Friend, I Wrote a Book About You, Big Friendship, or The One Year Daily Acts of Friendship, then you'll love Friendship Isn't a Big Thing, It's a Million Little Things.
"Becca Anderson focuses on female friendships and the powerful bond that women create with each other. Through this inspirational connections support networks are fostered and through them women enable each other to grow and become stronger. In Friendship Isn't a Big Thing, It's a Million Little Things she shares the elements of female empowerment with her readers so that they can see the power of connection between women." ―Nerdy Girl Express

Becca Anderson comes from a long line of teachers and preachers from Ohio and Kentucky. The teacher side of her family led her to become a woman's studies scholar and to her career writing about awesome women. A multiple-time bestselling author, Becca Anderson is known for many things, including her books Badass Affirmations and The Book of Awesome Women, her Your Blessings blog and Every Day Thankful Facebook page, as well as her many appearances on both national and bay area tv and radio shows such as ABC, NBC, and NPR. She credits her spiritual practice and daily prayer with helping her recover from cancer. An avid collector of affirmations, meditations, prayers and blessings, she helps run a "Gratitude and Grace Circle ''that meets monthly at homes, churches and bookstores in the San Francisco Bay Area where she currently resides. Becca Anderson shares prayers and affirmations, inspirational writings and suggested acts of kindness at https://thedailyinspoblog.wordpress.com