Bad Actors
Spiral-Bound | April 4, 2023
Mick Herron
Rebinding by Spiralverse™
★★★★☆+ from 1,001 to 10,000 ratings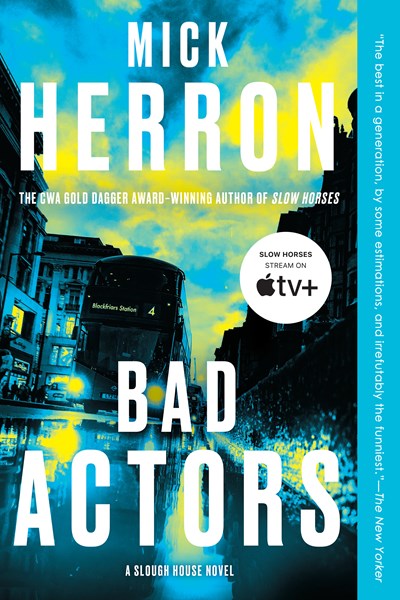 Mick Herron, "the le Carré of the future" (BBC), expands his world of bad spies with an even shadier cast of characters: the politicians, lobbyists, and misinformation agents pulling the levers of government policy.

"Confirms Mick Herron as the best spy novelist now working."
—NPR's Fresh Air

Now an Apple TV+ series starring Gary Oldman and Kristin Scott Thomas.

In London's MI5 headquarters a scandal is brewing that could disgrace the entire intelligence community. The Downing Street superforecaster—a specialist who advises the Prime Minister's office on how policy is likely to be received by the electorate—has disappeared without a trace. Claude Whelan, who was once head of MI5, has been tasked with tracking her down.

But the trail leads him straight back to Regent's Park itself, with First Desk Diana Taverner as chief suspect. Has Taverner overplayed her hand at last? Meanwhile, her Russian counterpart, Moscow intelligence's First Desk, has cheekily showed up in London and shaken off his escort. Are the two unfortunate events connected?

Over at Slough House, where Jackson Lamb presides over some of MI5's most embittered demoted agents, the slow horses are doing what they do best, and adding a little bit of chaos to an already unstable situation . . .

There are bad actors everywhere, and they usually get their comeuppance before the credits roll. But politics is a dirty business, and in a world where lying, cheating and backstabbing are the norm, sometimes the good guys can find themselves outgunned.

Story Locale:London, UK

Series Overview: The Bond-esque River Cartwight and his group of defunct MI5 spies, headed by the irascible Jackson Lamb, will do anything to get back into the game.
Praise for Bad Actors

Nominated for the Barry Award for Best Thriller
A Washington Post Best Mystery & Thriller of 2022
A CrimeReads Best Espionage Novel of 2022
CrimeReads Best New Crime Fiction for May

"What spurs me to keep reading each new installment is Herron's absurdist voice, which could devolve into cheap cynicism but never does. That's why the Slough House denizens, from Jackson Lamb to Roddy Ho to newcomer Ashley Kahn, maintain pathos in the face of parody—they may be bitter, but they have pride in themselves and their work."
—Sarah Weinman, The New York Times Book Review

"This motley group would never be mistaken for James Bond, but they could easily be compared with the paper sales staff of The Office . . . Herron mixes dry humor, musings on British and global politics, and superbly developed characters."
—Oline Cogdill, The South Florida Sun-Sentinel

"Herron's plots are masterpieces of convolution and elegant wrong-footing. Beyond that, his action scenes are fast-paced and thrilling—there are a couple of high-octane doozies in this installment. But the real draw of the series is its dark, dark humor . . . One of the most enjoyable series I have ever read."
—Katherine A. Powers, Minneapolis Star-Tribune

"Eight novels in, Herron's Slough House books prove he's one of the best and wittiest writers to follow in the tradition of Len Deighton and John le Carré . . . The twists and fights are both bloody and funny and done with Herron's own spy lingo, which gives it all panache. In short, a delight."
—Margaret Cannon, The Globe and Mail

"Just as good as its predecessors . . .The magnificently gross but also frighteningly shrewd Jackson Lamb is one of the espionage fiction's great characters."
—Laura Miller, Slate

"More proof that, though there may be spy novels with sentences as impeccable as Herron's, it's unlikely there are spy novels that are also as funny . . . Exemplary."
—Shelf Awareness, Starred Review

"Sensational . . . Herron brings his inimitable style to cat-and-mouse action and continues with his vivid portrait of the so-called 'intelligence' world."
—CrimeReads

"Highly entertaining."
—Seattle Book Review

"A send-up of contemporary British international espionage that turns a jaundiced, droll eye on the undercurrents and corruption of government."
—Foreword Reviews

"If le Carré brought moral ambiguity to the spy novel in place of Bondian glamour, Herron one-ups the master by showing us that ambiguity has its uncouth comedic side."
—Booklist, Starred Review

"An outstanding mix of arch humor, superb characterizations, and trenchant political observations."
—Publishers Weekly, Starred Review

Praise for the Slough House Series

"Intricate plotting, full of twists . . . Herron can certainly write a real spy story, with all the misdirection and sleight of hand that requires. But it's the surly Slough House mood, the eccentric characters, and Herron's very black, very dry sense of humor that made me read one after the other without a break."
—Laura Miller, Slate.com

"I'll tell you what, to have been lucky enough to play Smiley in one's career; and now go and play Jackson Lamb in Mick Herron's novels—the heir, in a way, to le Carré—is a terrific thing."
—Gary Oldman

"Confirms Mick Herron as the best spy novelist now working."
—NPR's Fresh Air

"Compulsively readable, tightly plotted."
—Los Angeles Times

"Out of a wickedly imagined version of MI5, [Herron] has spun works of diabolical plotting and high-spirited cynicism, their pages filled with sardonic wit . . . Happily for Mr. Herron—if alas for us—events continue to produce rich material for his special gifts, and we hope he is scribbling away making good use of it all."
—The Wall Street Journal

"Heroic struggles, less-heroic failures and a shoot-out-cum-heist . . . with no let-up in the page turning throughout."
—Esquire

"The best in a generation, by some estimations, and irrefutably the funniest."
—Jill Lepore, The New Yorker

"Herron's strength is in examining at close hand the absurdities, conflicts, and dangers of the intelligence agency as an institution at the center of some of the most central conflicts in the 21st century."
—Los Angeles Review of Books

"Unbeatable entertainment for thriller fans."
—Library Journal, Starred Review
Mick Herron is a British novelist and short story writer who was born in Newcastle and studied English at Oxford. He is the author of the Slough House espionage series, four Oxford mysteries, and several standalone novels. His work has won the CWA Gold Dagger for Best Crime Novel, the Steel Dagger for Best Thriller, and the Ellery Queen Readers Award, and been nominated for the Macavity, Barry, Shamus, and Theakstons Novel of the Year Awards. He currently lives in Oxford and writes full-time.

Author Residence: Oxford, England

Author Hometown: Oxford, England