The River You Touch: Making a Life on Moving Water
Spiral-Bound | October 11, 2022
Chris Dombrowski
Rebinding by Spiralverse™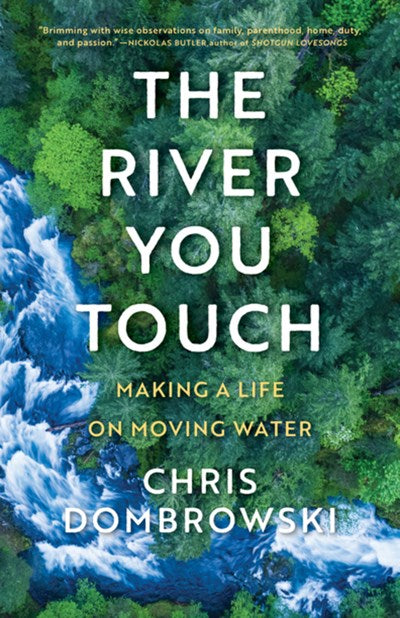 "We are matter and long to be received by an Earth that conceived us, which accepts and reconstitutes us, its children, each of us, without exception, every one. The journey is long, and then we start homeward, fathomless as to what home might make of us." —from The River You Touch
When Chris Dombrowski burst onto the literary scene with Body of Water, the book was acclaimed as "a classic" (Jim Harrison) and its author compared with John McPhee. Dombrowski begins the highly anticipated The River You Touch with a question as timely as it is profound: "What does a meaningful, mindful, sustainable inhabitance on this small planet look like in the anthropocene?"
He answers this fundamental question of our time initially by listening lovingly to rivers and the land they pulse through in his adopted home of Montana. Transplants from the post-industrial Midwest, he and his partner, Mary, assemble a life based precariously on her income as a schoolteacher, his as a poet and fly-fishing guide. Before long, their first child arrives, followed soon after by two more, all "free beings in whom flourishes an essential kind of knowing […], whose capacity for wonder may be the beacon by which we see ourselves through this dark epoch." And around the young family circles a community of friends—river-rafting guides and conservationists, climbers and wildlife biologists—who seek to cultivate a way of living in place that moves beyond the mythologized West of appropriation and extraction.
Moving seamlessly from the quotidian—diapers, the mortgage, a threadbare bank account—to the metaphysical—time, memory, how to live a life of integrity—Dombrowski illuminates the experience of fatherhood with intimacy and grace. Spending time in wild places with their children, he learns that their youthful sense of wonder at the beauty and connectivity of the more-than-human world is not naivete to be shed, but rather wisdom most of us lose along the way—wisdom that is essential for the possibility of transformation.
Praise for The River You Touch

"A poignant rumination on marriage, parenthood, friendship and what it means to connect with nature."—USA Today
"Montana-based poet and fly-fishing guide Chris Dombrowski tells a deeply personal story about his life on rivers, raising a family in a wild place with wild yearnings to live on the edge. A lyrical memoir and ode to trout and riparian ecosystems, every sentence of this book sings."—NicholasTriolo, Outside Magazine
"There's enjoying nature, and then there's the ability to write well about it. The River You Touch is a love song that readers with the same musical taste are sure to admire."—Minneapolis Star Tribune
"The River You Touch is an excellent memoir about family, fatherhood and fishing from the wordsmith, Chris Dombrowski."—Monte Burke, Forbes

"A sparkling, passionate ode . . . Dombrowski opens doors to his work and life. Pass through any and it's unlikely you'll emerge unchanged."—Shelf Awareness, starred review
"A heartfelt memoir of life and fatherhood in Big Sky country . . . Through a collection of vignettes, the author shares his concerns for the environment, the effects of the appropriation of land from Native inhabitants, and the emotions the landscape stirs in him. 'The angler standing in the river is not so much absolved of time as disburdened of it, able to shirk its weight' . . . Nature lovers will be captivated by Dombrowski's lyrical descriptions of the land and its wildlife, while parents are sure to relate to his familial challenges and sacrifice. A beautifully and poignantly written tribute to a beloved landscape and its spirit."—Kirkus Reviews, starred review
"The River You Touch, Chris Dombrowski's second nonfiction book, will change the way people see the world . . . Equally weighted in this admirably woven memoir by a poet, teacher, river and fly-fishing guide, is the quotidian struggle of staying afloat in fast moving streams of financial hardship, environmental concern and creative ambition . . . Dombrowski raises the bar for all of us by casting light on maternal-male instincts. He torches the narrative of the single solitary man, gritting it out by himself, conquering the mountain, killing prey or whatever. He rightfully acknowledges the vital power of community that makes a great man toughened by his own vulnerability."—BOMB Magazine
"This treasure of a memoir is a poignant exploration of fatherhood and friendship, fly fishing and hunting, and how to mindfully make one's way in a noisy, sometimes messy world, navigating births and deaths, almost always within a shady walk of a refreshing river pool or the solace grasped on a stretch of trout water."—Bill Bryant, Inlander
"Dombrowski writes with fresh sensitivity about his life...The River You Touch chronicles the possibilities for an artistic, healthy, balanced, family-integrated existence…recognizing that 'there is nothing as wild and vital' as their company."—Henry Hughes, Harvard Review

"The River You Touch is a personal guide like no other . . . a lyrical, visually rich, once-in-a-lifetime river trip. . . . Packed with thought-provoking narrative that may guide you to being a better human."—Montana Quarterly
"Buy this book for yourself. And another for any friend who seeks to live a mindful and creative life in the throes of responsibility to family, self, community and a little plot of land on the planet."—Contemplify
"Eloquent . . . [Dombrowski] captures the seasons of this singular, wild country—netting the first fish of early spring, gathering morels, harvesting pheasant and elk for holiday meals with friends—around the frame of raising three children . . . All of this entails 'a combination of the chaotic and the monastic,' as he explains, from sleepless nights to endless diaper changes, bedtime reading, making meals and washing dishes. 'Hold fast to their wonder,' a voice inside him utters as encouragement, which could also be a reminder that there is nothing as 'wild and vital' as our children."—Taos News
"An intimate collection of related vignettes that ruminate on an outdoor life along Montana's stunning rivers and [Dombrowski's] challenging interior struggle over providing a dependable living for his growing family . . . Populated by a panoply of gorgeous images—'I was nineteen—the Yellowstone flowing around my hips swept quicksilver-streaked beneath the vast moonlit snowfields of the Crazy Mountains'—this is a complex, candid meditation on parenting, fishing, writing, and living in a manner that will stir the blood and fire the intellect."—Booklist
"Nature writer Dombrowski evokes both wilderness splendor and the hardscrabble effort of living paycheck to paycheck in this exquisite work. In lyrical language replete with vivid imagery, Dombrowski reflects on his 25 years as a fly-fishing guide, his uncertainty over writing and poetry, his impending fatherhood and 'fear of ushering children into a periled world' . . . he renders his love of the natural world in incandescent prose: 'the land itself . . . a blessing, yes, but also a kind of passage, a shaft of fall light shone down on a trace path that leads out of a previously impenetrable wood.' Punctuated by the frank candor of a writer weighing sacrifice and art, this introspective memoir will hook fans of A River Runs Through It."—Publishers Weekly
"A lyrical exploration of a beloved place and lifestyle steeped in the natural world, by a writer for whom quality of life supersedes the need for financial security. Will appeal to readers who relish memoirs that skillfully intertwine nature, the American West, and fishing."—Library Journal
"In slow, eddying prose, [The River You Touch] mines an ordinary life for evocative reflections on family, friendship, and the meaning found in a rugged landscape . . . Suggesting that, like a river, a life well lived includes 'headlong shots through roaring box canyons' in addition to 'the hypnotic, elliptical movement of water running back on itself,' The River You Touch is a profound, moving memoir that contemplates the earth, family, and community in its tributes to the intimate beauty of western Montana."—Foreword Reviews
"Dombrowski's prose is familiar and inviting… it's a subtle craft, this translation of outdoor commitment onto the page, extending leaves of solidarity to audiences unknown."—Christopher Schaberg, Flyfish Journal

"Lyrical and complex, The River You Touch keeps you grounded in the wonder of nature and place as the author navigates through life as a parent, writer, and partner. Dombrowski, a poet, writer, and fishing guide, seamlessly weaves together new and interesting perspectives on fatherhood while painting moving scenes of the American West and allowing glimpses into the many challenges of parenthood and the writing life."—Aurora Bonner, Hippocampus Magazine
"A touching and moving story about a family that chooses to live in the 'wild' and call a river home. I absolutely love this memoir and I think you will, to especially if you're a fan of water."—Linda Bond, Auntie's Bookstore, Spokane, WA
"A naturalist memoir with rich language and reflections on parenting, economic survival, and mental health. Striving to achieve a more sustainable lifestyle with his family, the author becomes anchored to his home ground in Montana. He focuses on his wife and children, the lure of wild game, fishing, and his love of writing. His interactions with authors Jim Harrison and Debra Magpie Eraling provide an added and unique perspective. It may often be the artist's curse to live economically disadvantaged, but Dombrowski turns the experience into blissful prose."—Todd Miller, Arcadia Books, Spring Green, WI
"This is a touching tribute to nature and fatherhood. A poet and fly-fishing guide in love with the wilds of Montana, Detroit transplant Chris Dombrowski's sensitive treatise on the birth and raising of his three children and being a good citizen to the planet is a lesson on paying attention to the natural world in which we reside."—Vicki Honeyman, Literati Bookstore, Ann Arbor, MI
"Heartfelt, moving, and gorgeously written, The River You Touch is a love song to the rivers of Montana, a love song to a way of life. Dombrowski writes with tenderness and insight and with a deep, personal gratitude to the rivers that have taught him who he is—a husband, a father, a fisherman, a poet, a person who loves the earth as well as mourns it. What a tremendous achievement."—Emily Ruskovitch, author of Idaho
"Midway through The River You Touch, poet and naturalist Chris Dombrowski tells us, 'To truly fathom a river, is to know it from its headwaters to its mouth…' To truly fathom a life—one's place, community, family, history, purpose on earth—is the sacred pursuit of this moving and beautifully written memoir. Here is the story of a man attempting to reckon with his cultural inheritance, his vocation, his past, and his responsibilities to family, land, and history. Along the route, he continuously encounters reminders of his own mortal smallness and, simultaneously, the numinous interconnection of all beings. Like the river, Dombrowski's story is complicated and enlivened by all it touches, 'an extension of everything upstream and down'—from the joys, doubts, and terrors of parenthood; to the precarity of making a life in art; to the rivers and mountains that are both his source of sustenance and place of worship; and the fraught layers of histories that map over it all. By the end, I'd fallen hopelessly in love with Dombrowski's Montana, not just its rivers and mountains, but the unforgettable cast of characters that populate his world—from children who speak in beguiling riddles to crusty old hunters whose colloquial panache rivals the naughtiest Shakespeare. Dombrowski brings a near-religious attentiveness to the details of his world, both our wise guide and awe-struck fellow-passenger." —Lisa Wells, author of Believers
"You won't soon read a more beautiful book, nor one so earthy, wise, delicious, and alive. This is not a book about fish or rivers or Montana or parenting. This is a book, to paraphrase another poet, plain and simple, to break open the frozen sea within."—Rick Bass
"In the way a fable points us toward rightness, so The River You Touch leads us to a necessary truth: that deep knowledge and love of a place shapes us in all the ways we will need to survive. With poetry, vulnerability, and crisp storytelling, Dombrowski takes us into a wild, river-thrummed Montana, and into the stormswept territory of marriage and family. It's a journey with a guide who knows the country at a cellular level, and whose bafflement and wonder renews our own. The magic of the book is that I came away convinced that learning to love a trout, or an autumn snowfall, or a wolf crossing a river, would teach me to love a friend or a partner in pain—and so to love and be connected to all beings. Damn."--Peter Heller, bestselling author of The Dog Stars, The River, and The Guide
"With The River You Touch, Chris Dombrowski has established himself at the forefront of American writers of place. This beautiful, clear-eyed, tender memoir is as intimate as a love letter, brimming with wise observations on family, parenthood, home, duty, and passion. The Montana within these pages is wild and rugged, yes. But it is also as gentle as a cold stream running through your fingers or a child sleeping in your arms. I loved this book."—Nickolas Butler, bestselling author of Godspeed and Shotgun Lovesongs
Praise for Body of Water: A Sage, A Seeker, and the World's Most Elusive Fish

"Dombrowski's writing exhibits a poetic sense of economy. There's a tremendous amount of information here on the geological, botanical, biological and human history of the region, but the author uses only what's necessary to the story and relates it in evocative, concise language that reminded me of Gary Snyder one minute and John McPhee the next. […] Dombrowski's exacting descriptions of the sport make me long to try it again--and to wish that more fishing books were written by poets."—John Gierach, Wall Street Journal
"Body of Water is about bonefishing, but it is also about ecosystem exploitation, class conflict, wealth inequity, race relations, Bahamian history, mentor-mentee relationships, nature as the catalyst for self-awareness, and more. […] The lyrical narrative strikes a delicate balance between reflective memoir and reportage."—Minneapolis Star Tribune
"Body of Water is wonderful, an evocation of the why and not the how in angling. Dombrowski has a way of describing that which may have become prosaic for the seasoned angler--the terminal tackle, the fly cast--in new and illuminating ways."—Forbes
"Dombrowski elevates the fly-fishing-as-meditation narrative by the sheer fact that he's so damn good at writing about it."—Outside
"Rarely do cautionary tales dazzle like this. It's a credit to Dombrowski's prose, which torques and twists and glistens into view much like the bonefish itself. […] By book's end, Dombrowski leaves readers with many lessons, thought this one most of all: whether on a skiff or in a book, the guide matters. And Dombrowski is the one you want."—Los Angeles Times
"Uncanny and moving. This book will not only make you change your vacation plans, it might make you change your life. A reverent, almost holy, book of angling lore."—Debra Magpie Earling, author of Perma Red
"At its core, Body of Water is about our increasingly tenuous connection to nature, from a poet who understands the source of that strange and melancholic joy that we are blessed with only when we stand in wild places."—Steve Rinella, author of Meat Eater
"A lyrical, genre-defying tribute. […] Drawing on Caribbean history and the evolution of fly-fishing, Dombrowski's foray into nonfiction proves thematically complex, finely wrought, and profoundly life-affirming."—Publishers Weekly (starred review)
"A metaphor-laced meditation on the art and practice of fly-fishing, the social and economic history of the Bahamas, the evolution of archipelago geology and the chronicle of Dombrowski's personal struggle to juggle his fishing and poetry obsessions against the financial needs of his own family. […] Fly-fishing mysticism at its best."—Shelf Awareness
Chris Dombrowski is the author of The River You Touch. He is also the author of Body of Water: A Sage, A Seeker, and the World's Most Elusive Fish, and of three acclaimed collections of poems. Currently the Assistant Director of the Creative Writing program at the University of Montana, he lives with his family in Missoula.