The Butcher and the Wren: A Novel
Spiral-Bound | July 25, 2023
Alaina Urquhart
Rebinding by Spiralverse™
★★★☆☆+ from 10,001 to 50,000 ratings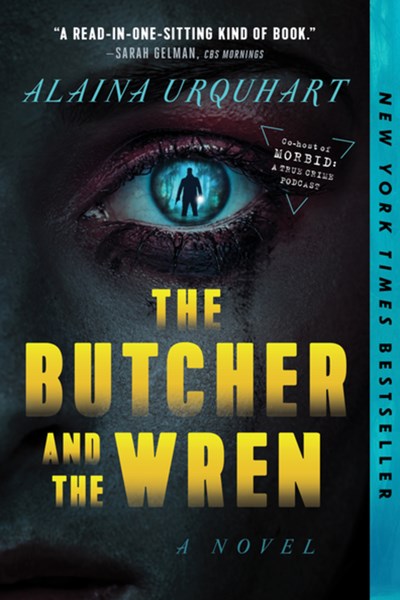 INSTANT NEW YORK TIMES BESTSELLER

From the co-host of chart-topping true crime podcast Morbid, a thrilling debut novel told from the dueling perspectives of a notorious serial killer and the medical examiner following where his trail of victims leads

Something dark is lurking in the Louisiana bayou: a methodical killer with a penchant for medical experimentation is hard at work completing his most harrowing crime yet, taunting the authorities who desperately try to catch up.

But forensic pathologist Dr. Wren Muller is the best there is. Armed with an encyclopedic knowledge of historical crimes, and years of experience working in the Medical Examiner's office, she's never encountered a case she couldn't solve. Until now. Case after case is piling up on Wren's examination table, and soon she is sucked into an all-consuming cat-and-mouse chase with a brutal murderer getting more brazen by the day.

An addictive read with straight-from-the-morgue details only an autopsy technician could provide, The Butcher and the Wren promises to ensnare all who enter.

Now with an exclusive sneak peek at the highly anticipated sequel!
New York Times Bestseller
#1 Wall Street Journal Bestseller
USA Today Bestseller
Bookshop.org Bestseller
An Amazon Best Book of 2022 (Mystery, Thriller & Suspense)
A Barnes & Noble Best Mystery of 2022 and Bookseller Favorite
A PopSugar Thriller to Sink Your Teeth Into
A SheReads Best Thriller of Fall 2022
A Booklist Queen Best New Thriller Book of Fall 2022
"Urquhart has crafted a thriller that is necessarily graphic but not exploitative. The crisp detail, the narrative brevity and the blade-sharp connections between the pathologist and the killer all bode well for future installments."
—Sarah Weinman,
New York Times
"A read-in-one-sitting kind of book."
—Sarah Gelman, CBS Mornings
"Urquhart paints a tense and dangerous world for us right from the start and delivers it all with a skilled and evocative hand."
—Aaron Mahnke, creator of the Lore podcast and author of The World of Lore series
"
The Butcher and the Wren
is perfect for fans of
Dexter
. Pitting a brutal serial killer against a determined medical examiner, the story is a pulse-pounding race against time. And the details the author weaves in due to her unique background as an autopsy tech heighten the realism and the suspense. Fans of
Morbid
will love the co-host's debut novel."
—Kaira Rouda, USA Today and Amazon Charts bestselling author of The Favorite Daughter and
Somebody's Home
"Can a medical examiner outsmart a serial killer?
The Butcher and the Wren
will keep you waiting for an answer until the last bloody page. Prepare to be disturbed. A deliciously dark debut."
—Rea Frey, bestselling author for Not Her Daughter and Secrets of Our House

"Looking for the perfect way to kick off your spooky season? Well, you can end your search now as the co-host of the wildly popular true-crime podcast
Morbid
, who is also an autopsy technician, is offering up a twisted tale of a serial killer terrorizing the Louisiana bayou. Told from the dueling perspectives of a notorious murderer and the medical examiner who is desperate to catch him, this cat-and-mouse thriller will give your goosebumps chills."
—Tierney Bricker,
E! News
"
The Butcher and the Wren
is already one of the buzziest titles of the Fall. If you somehow haven't already heard about what the big twists of the story are already, do your best not to find out until you get the chance to experience Alaina Urquhart's debut for yourself."
—Lacy Baugher Milas,
Paste Magazine
"
The Butcher and the Wren
is set in New Orleans and south Louisiana and follows forensic pathologist Dr. Wren Muller as she tries to crack the case of who is committing a series of murders . . . before they can strike again . . . Urquhart is a trained autopsy technician and brings her first-hand knowledge and investigative know-how to her writing. Hit up your favorite local bookstore and pick up a copy!"
—Ashley McLellan,
New Orleans Magazine
"A psychic thriller that will have readers on edge from the first page to the last . . . Perfect for those who love: watching
Silence of the Lambs
."
—Ashley McLellan,
Louisiana Life
"Urquhart does a fantastic job distinguishing between the voices of her two narrators, in both their tone and style of language. The fast-paced story and constant suspense keep you hooked, making it very difficult to put the novel down once you start reading it."
—Alexis Enderle,
The Tufts Daily
"Will totally horrify you and spark fear of the dark. Not for the faint of heart."
—Becky Bachhold,
The Daniel Island News
"Impressively detailed in its analysis, as you might expect from someone who spends their life conducting autopsies, it leaves little to the imagination, but is captivating, with lacings of the occult amid the deaths. There may be moments when the reader might want to shut their eyes, but the joust between the killer and the pathologist makes that impossible."
—Daily Mail
"If you like Patricia Cornwell and have watched
Dexter
with undisguised glee (and a sped-up heart rate), this one is for you."
—Belfast Telegraph
"[Urquhart] uses all aspects of her familiarity with crime, corpses and the practices of forensic pathology to write convincingly about the showdown between a serial killer and an ME. Her setting is especially absorbing, from the haunting darkness of the bayou at night to the rising fears of the characters' fellow parishioners. . . . I found that mid-book twist delightfully astonishing—and I'm hoping to read more from her."
—Doreen Sheridan,
Criminal Element
"True-crime podcast co-host Alaina Urquhart showcases her propensity for the macabre in chilling cat-and-mouse thriller."
—Sabienna Bowman,
Popsugar
"Set in the ever-moody and hauntingly beautiful city of New Orleans,
The Butcher and the Wren
tells the story of a meticulous serial killer and the distinguished forensic pathologist, Dr. Wren Muller, set out to stop him. After researching countless horrific true crime cases over the last several years, we have no doubt Urquhart will knock it out of the park with this one. This is the perfect book to pick up if you want to 'Keep it weird.'"
—Brett Nicole Hayden, The Everygirl
"A serial killer novel like none you have ever read,
The Butcher and the Wren
takes a cat-and-mouse chase between two instantly memorable antagonists and turns all the conventions of the genre upside down. Dark, twisty, full of authentic detail, it'll have you listening to the night in an entirely different way."
—Neil Nyren, Booktrib
"Another true crime podcaster brings their flair for the macabre to the page with
The Butcher and the Wren
. Co-host of the chart-topping
Morbid
podcast, Alaina Urquhart treats fans of pulse-pounding novels to a thrill ride pitting a notorious serial killer in a battle of wits against the medical examiner determined to bring him down."
—Books-A-Million, "Our Favorite Debut Authors"
"Urquhart's hands-on experience as an autopsy technician and her endless hours of research into hundreds of killers for her podcast feed into this chilling narrative resulting in a book that will haunt you for weeks. It's a perfect book for the start of the spooky season."
—Katie Giffin, City Scene
Alaina Urquhart is the science-loving co-host of the chart-topping show Morbid: A True Crime Podcast. As an autopsy technician by trade, she offers a unique perspective from deep inside the morgue. Alaina hails from Boston, where she lives with her wonderful husband, John, their three amazing daughters, and a ghost puggle named Bailey. She is about 75 percent coffee, and truly believes she and Agent Clarice Starling could be friends.
Before writing her first psychological horror novel, she received degrees in criminal justice, psychology, and biology. When she isn't hosting Morbid, she hosts the Parcast original show Crime Countdown, and a horror movie podcast called Scream! Her days are usually spent either recording or eviscerating. The way she sees it, when she hangs up her microphone for the day, it's time to let the dead speak.